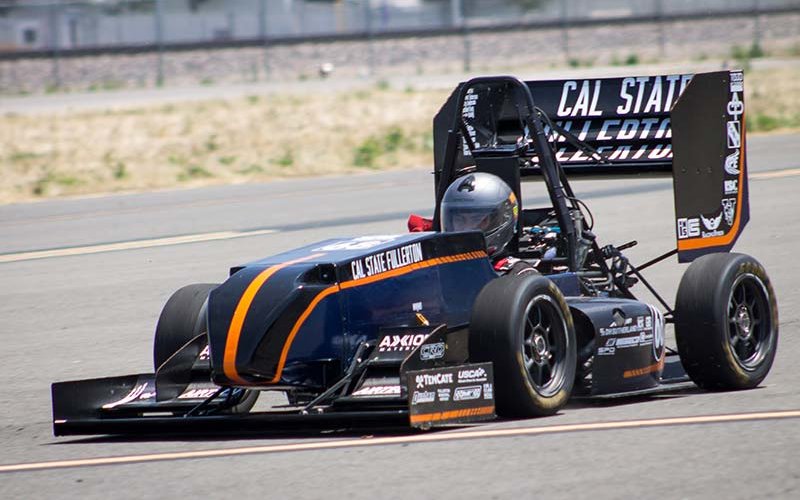 With their "Titan XII" formula-style race car, Cal State Fullerton students are gearing up to compete in this summer's Formula SAE in Lincoln, Nebraska.
The collegiate competition June 19-22, presented by SAE International (formerly known as Society of Automotive Engineers), is expected to draw 80 teams from the U.S., as well as Brazil, India, Mexico and Canada.
This is the 12th year a CSUF team has competed in the design competition for undergraduate and graduate students, where they conceive, design, fabricate, develop and race formula-style vehicles.
"For this year's team, it means we have a legacy to continue," said team captain Ammar Dalati. "Our goal is to get a top 10 finish. Performing well in this competition would elevate Cal State Fullerton's name as a top engineering school."
This year's Titan Racing team has about 40 members, mostly mechanical engineering majors, along with business administration students who help with project management, marketing and financing. Salvador Mayoral, assistant professor of mechanical engineering, is the team's faculty adviser.
The team has rebuilt and redesigned the vehicle, which is equipped with a new body, an upgraded powerful engine and lightweight suspension to make the car go faster, Dalati said. 
The College of Engineering and Computer Science project gives students the opportunity to enhance their engineering design and project management skills by applying learned classroom theories in a challenging competition.
"Being involved in the project helps students become better engineers, better problem solvers and better people for having participated in it," said Dalati, who first joined the team last year and graduates this summer with a bachelor's degree in mechanical engineering.
"With this project, students are faced with many problems with no clear answers. It forces us to accept the consequences of making decisions, while being constrained by time and budget."
Eric Ceballos, who has been on the team the last three years, added that the project also prepares students for their future engineering careers.
"You learn how to deal with real-world problems as a team and as an engineer," said Ceballos, a mechanical engineering major who plans to graduate next year.  
Students also have to reach out to industry and other external sources for materials and donations; in doing so, they learn other valuable skills, such as how to communicate and negotiate with professionals.
The best finish for a Titan entry was 12th place overall out of 67 finishers in 2014.