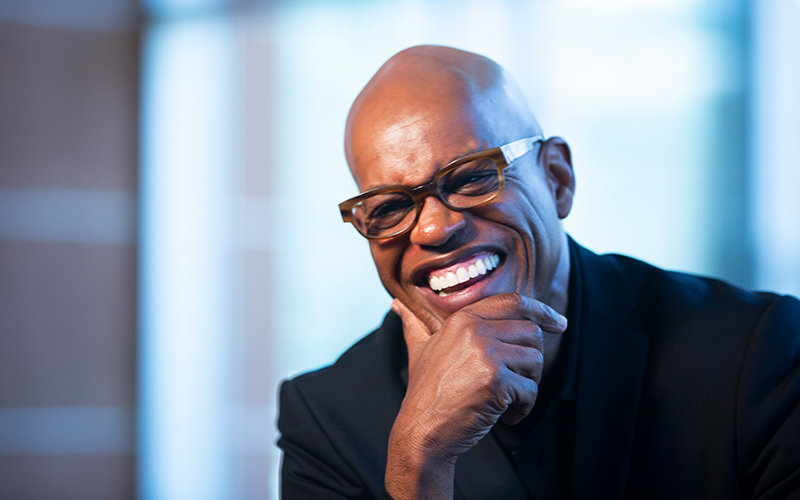 Jubilant Sykes doesn't just walk into a room. He bounds in, greeting everyone as if they were a close personal friend. He stops to shake hands, share a joke, or pose for photos. And, as a Cal State Fullerton alum, he's always willing to help current students during master class sessions or simply offer career advice.
As one of opera's most renowned baritones, Sykes has played venues across the world but never forgets what it's like to break into the world of music.
"Initially, I had no dreams of becoming an opera singer," he recalled. "But that changed when I was at Cal State Fullerton. I had teachers who poured their lives into me. I had everything I needed right on campus to prepare me for my career."
Sykes recalls being introduced to many different styles of music. He thought performing might be easy. It wasn't.
"That said, I never felt overwhelmed here," he explained. "I think if I was enrolled in a conservancy, I would have been more nervous but here, I wasn't anxious. There were too many people cheering me on."
Sykes saw his first opera as a CSUF student and loved it. However, he didn't have the confidence that he could master all the difficult passages required.  
"CSUF gave me a place to grow … and, if I'm being honest, to falter," he said. "That's how I learned. Whenever I come back here, I see students longing to be great but feeling insecure. After a critique, I'll ask, 'How do you feel?' I ask because someone did that for me. Conductors did that for me. Teachers did that. They saw something in me that I didn't see in myself.
"When I talk to students after they've performed, they'll sometimes weep. They put their heart and soul into the music and they want so badly to express those feelings."
During his years in the spotlight, Sykes has had the opportunity to meet and work with many famous and powerful people.
"I attended a party for President Obama and he came and spoke to me afterward," he recalled. "I was impressed by his gentle humility and his unpretentious kindness."
Composer John Williams was conducting when Sykes sang at the Hollywood Bowl.
"I remember my mother and father came that evening and that was truly a joy for me to perform under the direction of Williams with them in the crowd."
Then it was time to get to work. Senior music majors Jessica Hetrick and Omar Rodriguez volunteered to sing and have Sykes critique their performances.
Hattrick sang an operatic song, "I Go to Him," from the opera "The Rake's Progress" by Igor Stravinsky. In the piece, a woman dreams that the man she loves is in trouble and needs her help.
"Take a deeper breath and square your shoulders," Jubilant advised. "You are strong. Project that."
Rodriquez sang a piece from Mozart's "Marriage of Figaro." In it, he plays Dr. Bartolo who schemes against Figaro for stealing the woman he loves.
"This is a classic and singers often tend to overdo it," said Sykes. "I like to take a different approach — less swagger and more of a sinister 'I'll get him' kind of attitude. This doesn't need to be too big. Take in low breaths. It's like you're riding a wave."
Afterward both students spoke of what the class meant to them.
"I was very excited," said Hetrick.  "I was trying to absorb all he was telling me. I was nervous but he was very reassuring and supportive. And when you'd get it right, he'd smile and say, "Yes, yes.' That was amazing to hear."
Rodriguez agreed. "He really helps you bring out the best in the piece. I'm sure that focus is what sets him apart. I really appreciated his advice on everything from breath control to posture to attitude. All those things make for a better performance."
Sykes will be performing at the Ventura Music Festival, on Saturday, July 13. For more information, visit the festival website.