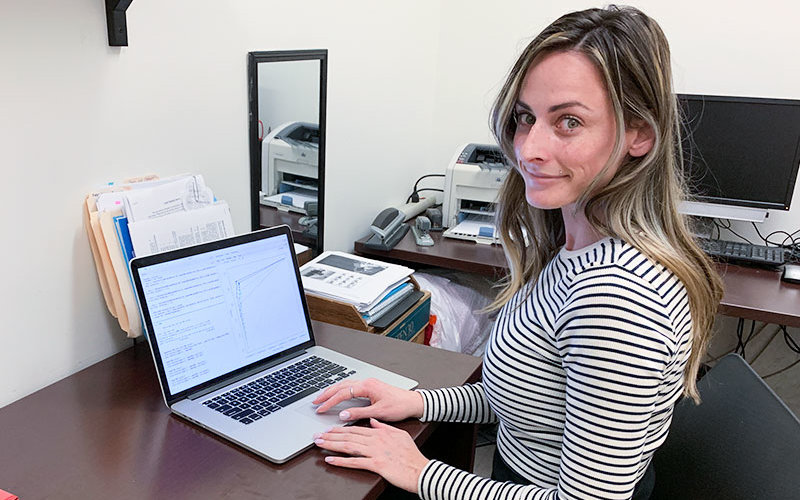 Biological science major Jesus Ortega has only been at the University of Chicago for two weeks, but he is already finding it exciting to spread his wings and expand his research experiences beyond Cal State Fullerton.
The summer research is made possible by the Maximizing Access to Research Careers (MARC) program, which pairs underrepresented and first-generation college students to Cal State Fullerton's top research faculty, but also offers 
workshops and seminars about how to compete and succeed in getting into a competitive Ph.D. program; 
stipends that help fund scholarly activities, including travel to professional conferences to present research; and 
summer research that expands and enhances their CSUF experiences.
"I joined the MARC program because I strongly believed it could provide me with the skillset, guidance and experiences to become a competent graduate applicant," says Ortega. "MARC's success in getting undergraduates into Ph.D. programs speaks to the ability of the program and its faculty participants."
Fellow MARC Scholar Kendra Paquette, who is at the University of Wisconsin-Madison, agrees. "I transferred to CSUF knowing that I wanted to go on to a Ph.D. program in psychology and was open to any opportunity that might help me in achieving this goal." 
"To have a project that is your own, where experiments/results aren't always clear cut and to think critically about your results" are major factors in Ortega's MARC participation.
Under the mentorship of CSUF associate professor of biological science Esther Chen, Ortega has delved into the gene regulation of the Sinorhizobium meliloti bacteria that lives inside certain types of plants. "Understanding the mechanisms governing this interaction can potentially provide us with information about potentially pathogenic bacteria, he explains. "And this interaction can be used to promote agricultural productivity since plants receive more nutrients while in this bacterial-plant interaction."
With an interest in psychology and criminal justice, Paquette has worked with psychology professor Iris Blandón-Gitlin on eyewitness memory. In Wisconsin, she is part of a project utilizing machine learning techniques and social media activity to predict alcohol use disorder in undergraduates.
"The most beneficial part of MARC has been the time devoted by the faculty and mentors. Despite their busy schedules, we get personalized feedback on everything from personal statements to drafts of our thesis," explains Paquette. "Throughout our time in the program, we are able to really develop relationships with our mentors."
Other Cal State Fullerton MARC Scholars, their majors and the institutions where they are conducting summer research:
Yasmine Alam, biochemistry
University of Washington 
Amanda Golden-Eddy, psychology
Summer Research Opportunity Program (SROP) at the University of Michigan
Elizabeth Hitch, biological science
UCLA  
Gerardo Sandoval, psychology
UCLA  
Monika Tadrous, mechanical engineering
University of Houston