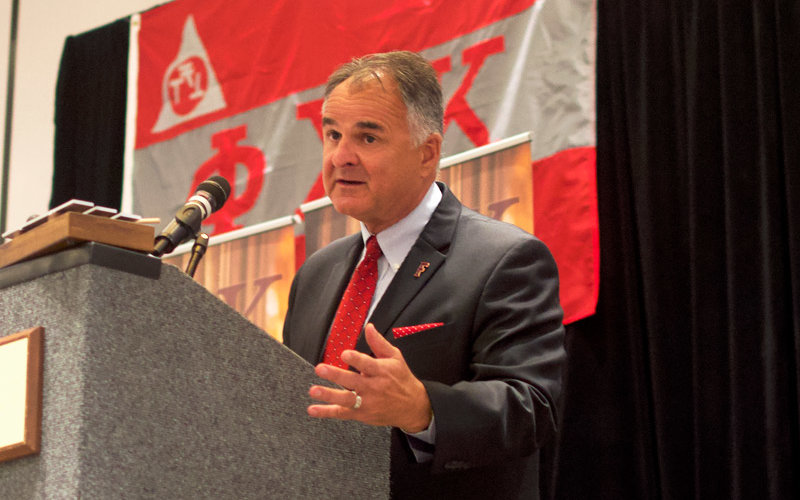 The Phi Sigma Kappa fraternity has recognized the accomplishments and service of one of its own by presenting the Medallion of Merit, its highest honor, to Cal State Fullerton President Fram Virjee.
The award is presented to an alumnus who: 
has distinguished himself through broad public service, or 
has become a national public figure, or 
has rendered outstanding service to Phi Sigma Kappa or to the fraternity system, or 
whose achievements have commanded national respect and recognition in a professional, business or educational field. 
The selection of the honoree was based on the recommendations of his fraternity brothers, several of whom contributed news articles about the long-time attorney who later became a university president. Virjee received this honor at the fraternity's July 27 convention. 
"For my lifelong fellowship with Phi Sigma Kappa to culminate with this honor means the world to me," said Virjee. "The lessons I learned with my PSK brothers range from the practical — how to run a meeting, how to read a budget and how to wire a light fixture — to the much more metaphysical, like the value and necessity of diversity and inclusion, the importance of service and selflessness, and the responsibility to speak truth to power. 
"Today, I am so proud to serve a university that inculcates these tenets in their scholarship and mission, and prouder still that at the heart of that institution is a vibrant, thriving, diverse and inclusive PSK chapter. It is in their honor — and in honor of my entire PSK and Titan Family — that I accept this award and pledge to continue living the attributes it stands for."
Phi Sigma Kappa is a lifelong brotherhood dedicated to the betterment of the individual, the university community, and our world, by giving its members opportunities to develop leadership skills, participate in service to others, achieve academic excellence, experience cultural diversity and practice personal integrity.