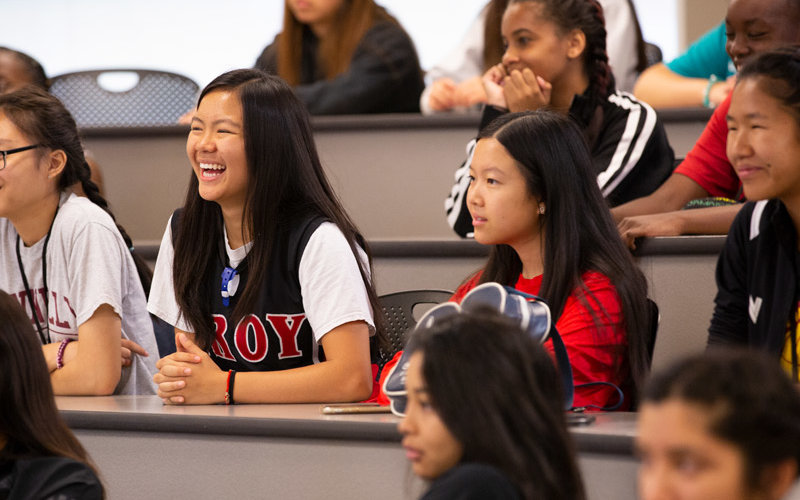 There is nothing ordinary about this summer's algebra II and precalculus classes for high school girls, offered for the 30th summer at Cal State Fullerton. 
From the all-female teachers, tutors and students to teaching math using scavenger hunts, Jenga, relay races and card games, 76 high school girls are preparing for their college studies and careers in the Mathematics Intensive Summer Session, known as Project MISS.
Project MISS was founded and directed by award-winning mathematics professor David L. Pagni to increase the number of female students who choose careers in the natural sciences, engineering and mathematics. The enrichment program helps boost students' mathematics skills in high school to prepare for college and beyond.
Instructors and tutors are either current CSUF students or alumni, with students in the program from high schools in Orange County and region. More than 1,800 high school students have completed Project MISS since 1990, and about a third enroll at CSUF. Of these, 99% go on to college and about 20% pursue a STEM major, Pagni said.
"This program is important because it helps women become more confident in a field that is usually seen as predominantly male. It helps the girls by providing a preview of their upcoming math class in a variety of different ways," said alumna and Project MISS instructor Sarah Hernandez, a math teacher at Savanna High School in Anaheim. 
"Project MISS provides more visual and kinesthetic activities than 'standard classrooms' to teach the content for mastery. By offering a hands-on preview of more complicated and challenging concepts, students are more prepared for their next math class," said Hernandez, who earned a bachelor's degree in mathematics in 2017 and completed the single subject credential program in math.
Students also learn introductory coding on a graphing calculator, which they keep upon successfully completing the program. In addition to learning math, the students also develop leadership, social and academic skills through collaborative activities.
"MISS is a program that not only teaches math, but also teaches the girls how to collaborate with each other and their teachers," said tutor Molly Avila, who is majoring in mathematics with a concentration in teaching. She is on track to graduate next year and then plans to pursue a teaching credential through CSUF's College of Education to teach middle school and high school math.
Avila has wanted to become a teacher since childhood and Project MISS is preparing her for her future career in the classroom.
"I have gained experience in class management techniques, lesson planning, the importance of a supportive environment, and so much more," Avila said. "This exposure will help me better prepare for the credential program. Being able to observe how the teachers in Project MISS conduct a classroom has been such a great learning experience for me."
The four-week commuter program, which continues through Aug. 2, also features special presentations by local industry women from Southern California Edison, Fluor Corp. and Edwards Lifesciences, who share their experiences on using math in their careers. Marie Johnson, dean of the College of Natural Sciences and Mathematics, also presented a talk.
Books, materials, meals and supplies are provided at no cost to the students, supported through private and industry donations. For more information, visit the Project MISS website: www.fullerton.edu/miss/