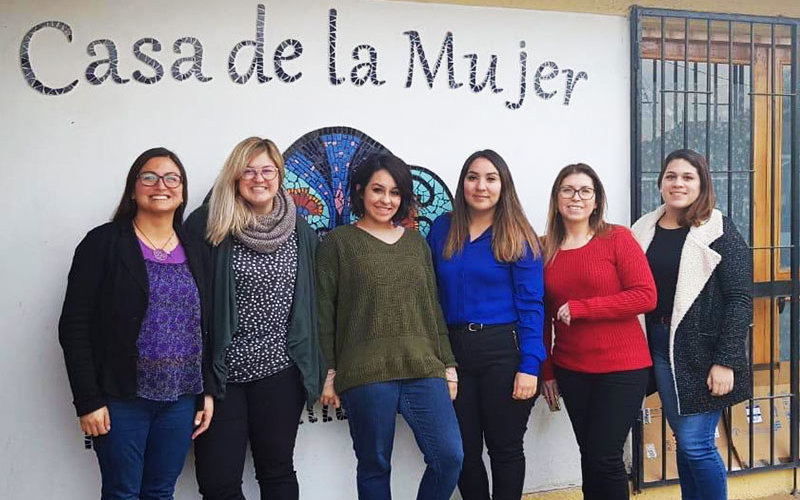 The 13-year-old girl was matter of fact as she said she had decided to take a year off from school.
But Mireya Duarte, a Cal State Fullerton graduate student in social work, was shocked.
"You just wouldn't see a young girl being able to do that in this country," Duarte said, looking back at the incident.
"Education is not as well-enforced in Chile as it is here. And student leaves happen a lot because of the poverty in that part of the nation," added Duarte. "She was going to help her family bake the goods they sold at market. Her parents signed the documents allowing her to take the leave."
It was just one of the many experiences Duarte and the 11 other graduate students had during the two-week summer course, International Social Work, taught by Mikyong Kim-Goh, professor of social work.
The five-week class integrated classroom learning of the concepts and issues regarding social work and social welfare from a global perspective, with an immersive experience in the South American country.
"This is the fifth year that we've sent students to Chile for short-term study abroad experiences in partnership with the Technological University of Chile, INACAP," noted Kim-Goh, adding that INACAP was an enthusiastic supporter of the partnership. "Integrating academic and experiential learning, this program provides unique opportunities for graduate social work students to develop cultural awareness and transferable social work skills in international contexts."
All participating students are bilingual/bicultural in Spanish — an important component because it allowed the students to communicate with the individuals they were engaging with during the experience, Kim-Goh said.
"I wanted them to ask themselves what their role would be as a social worker, and how different it would be from that of social workers in Chile," she added. "Besides lectures and roundtable seminars at the partner university, the CSUF graduate students were paired with Chilean social work students as they participated in hands-on, service-learning activities at various agencies in Santiago and Maipú regions."
The study abroad experience was one of the reasons Duarte chose the master of social work program at Cal State Fullerton. "Frankly, study abroad experiences are not usually offered in graduate-level programs, so I was interested. I wanted to be a part of it as soon as I heard about it."
"I wanted to increase my social consciousness of the different types of populations outside the U.S.," said Fatima Perez, who hopes to have a career providing mental health services and resources in a low-income community. "Having a Mexican background allows me to understand the Latinx community, but it isn't enough. I wanted to have a more holistic understanding of social work to better serve my future clientele."
"I saw this as a huge growth opportunity for myself," noted Melissa Barraza, who worked with a program that empowers women to join the Chilean workforce. "Some of the biggest lessons I learned were more about myself and how capable I am as a social worker and how easy it can be to connect with others as long as you accept them as they are."
Duarte, who worked with a program similar to child protective services, worked with both parents and their children, teaching better parenting skills, parental rights and the laws regarding child custody. "Most important of all, I learned cultural humility," she said. "As part of my career I will be going into diverse homes and different cultures. What seems normal to some isn't to others, so it is important to be open and accepting."
"This experience reignited that passion I feel for the field of social work," added Barraza. "Being in the MSW program has been the biggest challenge in my life, as the lens I see the world through has shifted."