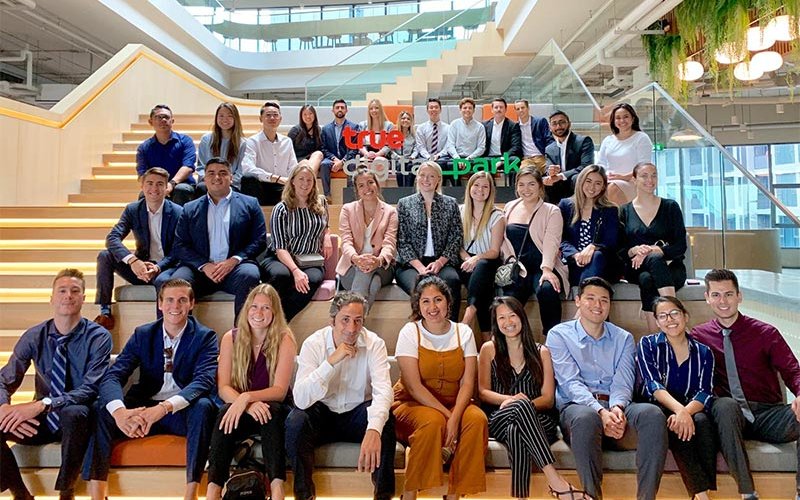 After studying global business for four years, 30 Cal State Fullerton students experienced it firsthand this summer during a study abroad trip in Thailand and Singapore. Led by Lorenzo Bizzi, associate professor of management, the May 28 to June 10 trip was the apex of the undergraduates' capstone business course, "Seminar in Strategic Management."   
"This trip enhanced my business studies at Mihaylo by integrating all that I've learned," says Mario Fabian, senior in business administration-accounting. "From effectively communicating to understanding different management styles and marketing procedures, the trip opened my eyes and broadened the spectrum on how to effectively use my skills."
Expanding horizons and gaining new perspectives is a key reason Bizzi has championed study abroad. "The goal is to take students who have lived in Orange County all of their lives and change their mindsets and open their minds. Seeing successful business people and a reality they've never experienced before — this is very effective. It really gives students more perspective and raises their ambition."
Bizzi also believes it's important to offer and encourage study abroad for CSUF students to remain competitive in today's global environment. He notes that the proportion of students at other universities who participate in such programs is much larger than at CSUF, so this program is a step in the right direction.
During the trip, students attended class each morning and spent afternoons experiencing the culture with visits to temples, palaces and street markets, where they quickly learned to negotiate purchases and tasted local food.
Business excursions included an audience with the executives at Thailand's largest bank, Siam Commercial Bank; a tour of Southeast Asia's largest startup and tech entrepreneur campus, Thailand's True Digital Park; a stop at an online distributor in Singapore competing with Amazon; and Singapore's Habitat by HonestBee, the world's first tech-enabled, multi-sensory grocery and dining destination. 
Fabian found that business in Asia was both similar and different to that in the U.S. "We are all striving to find the next technological development that will disrupt the market," he explains. "But the way that we operate is different due to our different forms of government and the way our countries have developed with technology."  
Rebecca Sandler, senior in business administration-legal studies, perceived a different mentality in Asia, adding, "Business in Asia is more community based than in the U.S. For example, True Digital Park had a small community for their workers, including apartments, a gym and other commodities you would find in your local town. I feel that business in Asia had more to do with the mindset of helping the whole company, while the U.S. tends to focus on individual success." 
Hearing these insights pleases Bizzi to no end. "I see the impact that [study abroad] has on students, and it's very gratifying." 
To learn more about this study abroad opportunity, contact Lorenzo Bizzi. For information on all international programs at CSUF, visit the study abroad website.