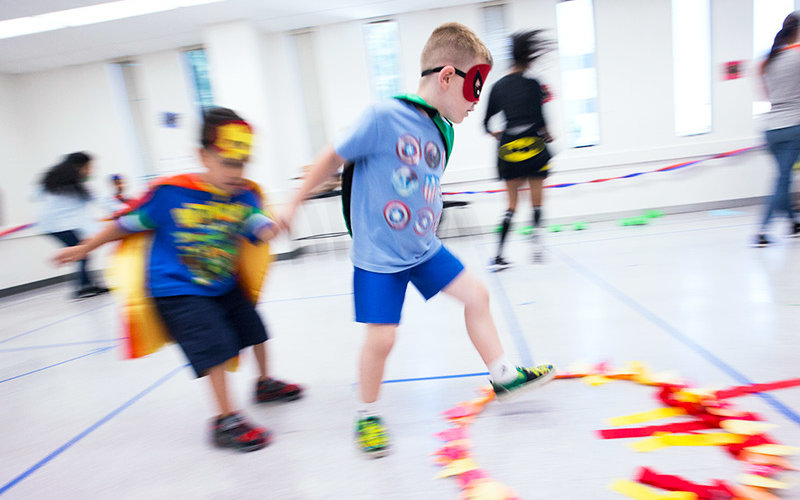 Amidst a village with miniature superheroes or an ocean of tiny sea creatures, Cal State Fullerton communication sciences and disorders students are gaining clinical experience running the third annual Titan Tikes speech therapy camp for kids ages 3 to 6.
July 15-31, the campus' Speech, Language and Hearing Clinic is being transformed into a themed play world where tots pretend to swim like fish or fly like Superman while receiving intensive functional speech and language therapy. Support from the California Scottish Rite Foundation allows participation by children who could not otherwise attend.
Twice a day in two-hour sessions, nine CSUF graduate students are providing therapy, assisted by ten undergraduate students from the communication sciences and disorders program. All are working under the supervision of three licensed and certified speech pathologists, two of whom graduated from the program.
Children are assessed before attending the camp so clinicians can tailor therapy to their specific needs. Some kids are working on the production of sounds while others are tackling expressive or receptive language or social skills through group activities and one-on-one interactions. 
The camp is an important way for CSUF's Speech, Language and Hearing Clinic to advance its dual mission of providing clinical experience to students and clinical services to the community, explains Sherri Wolff, clinic director and lecturer in communication sciences and disorders. 
"Students are immersed in the clinical experience, and they also learn to work as a team and collaborate with other clinicians and volunteers," said Wolff.
Visit the clinic's website or call 657-278-3997 for more information on the camp or clinic.