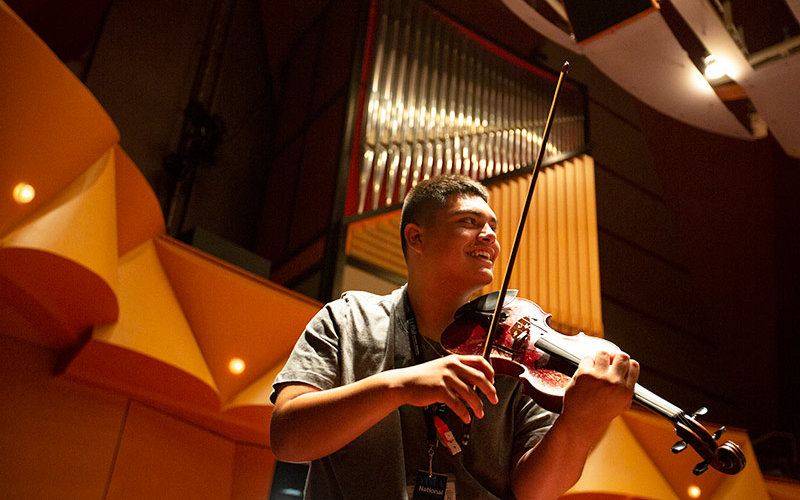 The halls of Cal State Fullerton's Clayes Performing Arts Center are filled with music this summer, but not all of it is coming from college students. This month, a group of about 140 students from 23 states, ranging in ages 12 to 18, are practicing their performance skills at the university's School of Music.
They are part of the YOLA National Festival, sponsored by the Los Angeles Philharmonic. The intensive youth development program offers opportunities for young musicians, teaching artists and other stakeholders to learn from and create community with one another. Through this work, the LA Philharmonic hopes to empower youth from populations that have been historically excluded from this type of music training while encouraging a dialogue among those who help shape the future of music education and performance.
"We are so excited to be a host to this outstanding program," said Dale Merrill, dean of CSUF's College of the Arts. "We want to show our support for the artistic development of pre-collegiate youth and showcase the experiences and educational opportunities available to such students on a campus such as Cal State Fullerton.
"This is a very diverse group of students that might not have an opportunity to perform before world-renowned conductors and musicians," continued Merrill. "Our campus is ideal for a program such as this — not only because of our outstanding facilities, but because we, too, understand and appreciate the diversity of our students and some of the challenges they have to face in pursuing higher education."
Three students who participated in previous YOLA festivals are continuing their musical education at Cal State Fullerton and helping with this year's festival.
"YOLA is why I attend here," says Emmanuel Rojas, a freshman music major at Cal State Fullerton who has been working with this year's festival. He started with the program when he was seven years old and dreaming about becoming a soccer player, not college. "I know that music is something I want now and it wouldn't have been the same without YOLA." 
The 2019 program features a symphony orchestra and a chamber orchestra. The student participants attend a two-week learning and performance training with world-renowned conductors and artist mentors. Participation is free and includes travel, lodging, meals and programing. 
The festival concludes with a July 26 performance of the YOLA National Symphony Orchestra in Los Angeles' Walt Disney Concert Hall. More information is available on the LA Philharmonic website.