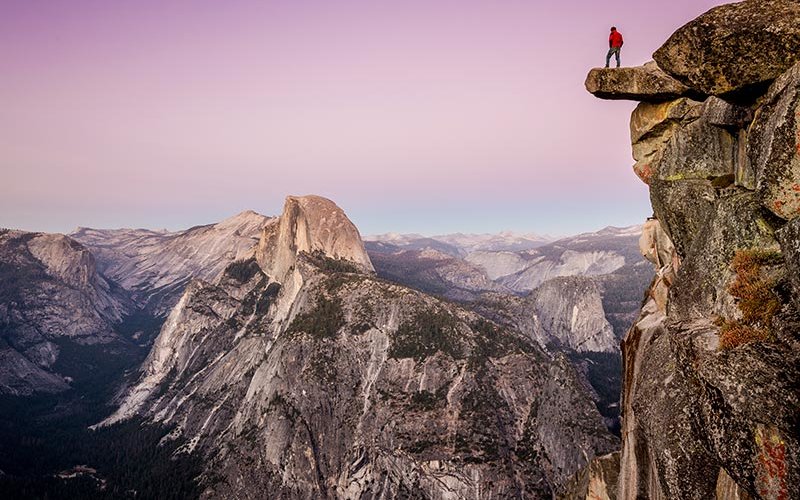 In Yosemite National Park, the majestic landscape of great domes, half domes, waterfalls and towering cliffs of igneous rocks carved by glaciers thousands of years ago draws millions of visitors each year.
For those wanting to know more about the geologic story of Yosemite, a team of Cal State Fullerton geological sciences faculty members and students created "Yosemite National Park: A Story of Fire and Ice"— a free virtual field trip app on Wyoming-based TravelStorysGPS.
"The idea is to use modern technology to teach the public about geologic phenomena," said Vali Memeti, assistant professor of geological sciences. "Yosemite gets 4 to 5 million visitors every year, and most of them have no idea what geologic phenomena they are looking at. By offering an app about the park's magmatic and glacial geology, we hope we are bringing a little bit of education to people's fingertips."
Natalie Bursztyn, a former CSUF geological sciences faculty member who started the project in 2016, added that the project's objective is to share with the public the origins of the park — from its fiery volcanic beginnings to the powerful glacial age that carved the area's landscape.
"Our secondary objective was to show the public what observations geologists make in the rocks, and how they interpret them to help tell the geologic history of an area," said Bursztyn, who now teaches geology at Quest University in Canada.
Through the app, people learn how to "read the rocks," the physical features of the Yosemite landscape, and the related geological processes that formed them, Memeti added.
"For example, we explain how magma chambers operate on scales of up to several millions of years, and how glaciers and climate change modified the landscape over a shorter period of time," noted Memeti, who studies volcanoes and volcanic eruptions across the globe, including the underground chambers of volcanic, molten rock called magma.
Bursztyn and her former students Joseph Gutierrez '17 (B.S. geology) and Isabel Guinto '18 (B.S. geology) worked on the project for their senior theses. Gutierrez focused on the climate story of the park, dating from the ice age to modern climate change. Guinto, with Memeti and Katie Ardill, a doctoral student at the University of Southern California, researched the "fire" portion, including plate tectonics — the movement of Earth's giant slabs of solid rock that move relative to one another, forming geologic features — to igneous intrusions, which form when magma cools and solidifies before it reaches the surface.  
Both students not only conducted geologic research about Yosemite, each learned how to effectively communicate the science to the public. They also wrote narratives for the audio storytelling of each of the 10 field trip stop locations within the park.
"I'm honored to be part of the team that was given the opportunity to explain the geologic history that formed the well-known beauty of Yosemite," Guinto said. "Not only did I learn about the park's geology, I get to provide others with the opportunity to learn."