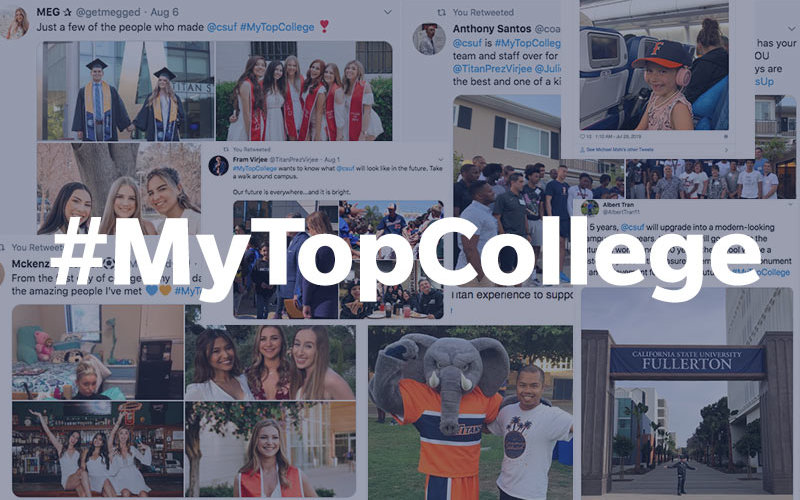 Cal State Fullerton, with a little swagger, some self-promotion and a lot of selfies, captured its sixth Forbes #MyTopCollege social media national championship.
Each year, Forbes runs the annual social media campaign, which encourages students, faculty, staff and alumni to share the reasons why they love their university.
Last year, CSUF finished No. 1 in the large school division and has now won the title six years in a row. In 2014, the competition's inaugural year, CSUF was the top university in the nation.
"Perennial powerhouse California State University at Fullerton won the large school category once again, marking the sixth consecutive year that CSUF took home the #MyTopCollege crown," Forbes wrote. "CSUF had the most submissions of any school by a wide margin."
This year, Cal State Fullerton was joined in the top 10 by Cal State Northridge, Fresno State, Long Beach State and Chico State. Widener University, a private school in Pennsylvania, took the medium school division and Sweet Briar College, a private all-female school in Sweet Briar, Virginia, repeated as the winner of the small-school category.
This year's theme was time travel and more than 1,000 submissions came in on Instagram and Twitter between June 17 and Aug. 9. Forbes will release its annual America's Top Colleges listing — the official companion to its social media contest — later this week.
Tweets and Instagram posts from President Fram Virjee, faculty, staff, students and alums like Mckenzie Jackson were what drove the university across the finish line into first place.
"From the first day of college to my last day of college, I am thankful for all the amazing people I've met," said Jackson in one of her #MyTopCollege tweets.
President Virjee reflected on his first year as president.
"Having just finished my freshmen year, I'll share many first-year memories for this week's #MyTopCollege theme, beginning with Move-In Day," he said. "Chatting w/ parents, sharing a snow cone with Tuffy, or helping students say bye to their dogs – it is #TitanFamily at its finest."
And then this tweet from Albert Tran pointed to the future.
"In 5 years, @csuf will upgrade into a modern-looking campus; in 10 years, the Titans will go digital in the futuristic world; and in 50 years, the school will be a historical place with treasured memories. This monument is an achievement for creating a future in #MyTopCollege."