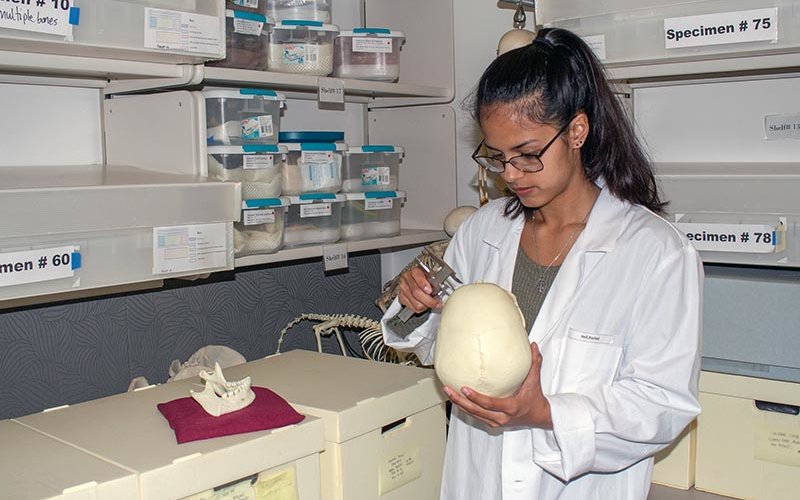 Rachel Heil believes much can be learned from studying the dead.
The Cal State Fullerton junior recently received a National Science Foundation undergraduate research fellowship to study bioarchaeology at the University of South Alabama's Center for Archaeological Studies, and plans to pursue a career in forensic anthropology.
"Studying the dead has been and always will be of immense interest to me, and a forensic setting would allow me to apply my interests and knowledge of human remains to benefit law enforcement in identifying unknown individuals," said Heil.
During the eight-week fellowship, Heil completed training in osteology — the study of the structure and function of the skeleton — and examined remains from two Bronze Age skeletal collections to find clues on age, sex, stature estimation, treatment of the remains, nutrition, ancestry and cultural practices.
Using a foot bone called the talus, her research project focused on finding the minimum number of individuals and the extent of burning in two United Arab Emirates tombs containing fragmented commingled remains.
"Our results showed that there was a minimum of 88 individuals in the first tomb, Unar 1, and a minimum of 228 individuals in the second tomb, Unar 2. The increase in the number of individuals in the tombs could indicate an increase in population over time," shared Heil. "When observing the extent of burning between the two tombs, it was evident that Unar 2 had more calcined bone, indicating an increase in cremation practices."
Heil and her research partner will present their findings at the American Association of Physical Anthropologists conference in April 2020.
"The NSF Research Experiences for Undergraduates program benefited my career goals by helping me demonstrate my interest and commitment to the field," said Heil. "The program also included professional development and public outreach, which resulted in personal growth and contribution to the scientific community."
A first-generation college student, Heil credits Cal State Fullerton for preparing her and connecting her with opportunities to engage in major research programs.
"I am extremely fortunate and grateful to go to CSUF because of the classes, lab space, equipment and professors that the university provides," she said. "I was able to take the appropriate and relevant classes, such as human osteology and forensic anthropology, that challenged and prepared me for my future."
To learn more about supporting student research at Cal State Fullerton, contact senior director of development Alina Mircea-Trotz at amircea-trotz@fullerton.edu.