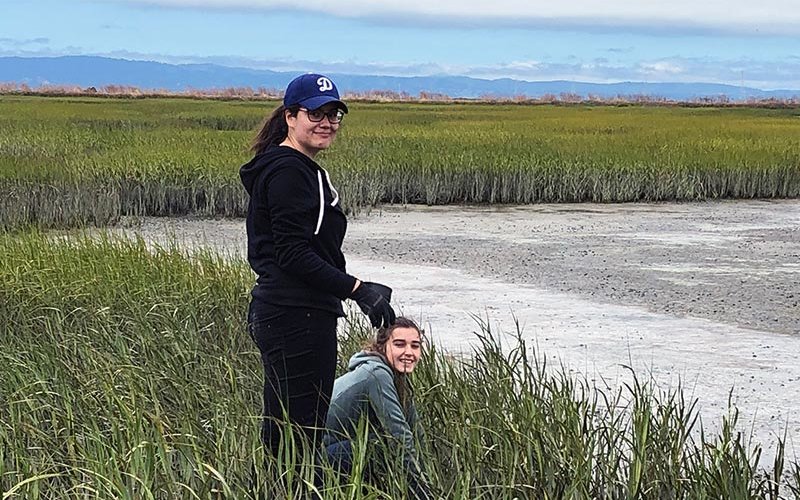 Community college student Theresa Duncan spent the summer working in a "carbon sink" —  coastal wetlands that can use and remove excess carbon from the atmosphere.
As part of a group of community college students studying at Cal State Fullerton, she worked on a research project on how carbon, one of the essential building blocks of organic life, buried in the soil of California's coastal wetlands can help combat climate change. 
For eight weeks, Duncan worked with CSUF faculty mentor Joe Carlin, assistant professor of geological sciences, on the research as part of "Regional Alliance in STEM Education: Raising the Bar in Transfer, Retention and Graduation Rates," known as Project RAISE. The summer undergraduate program brings community college students to campus to conduct STEM research.
Duncan was among 93 CSUF and community college students who presented their research projects at the recent Summer Research Symposium, presented by Project RAISE.
For their study, Carlin and Duncan examined how much carbon is in the soil of three different habitats within Eden Landing Ecological Reserve in San Francisco Bay. Duncan, who plans to pursue a career in environmental geology, traveled to the San Francisco Bay to collect soil samples.  
"It's been an amazing learning opportunity to prepare me for CSUF," said Duncan,  who is transferring to the university this fall from Cypress College and plans to continue working with Carlin on the ongoing research project. "The biggest benefit was getting hands-on research experience."
Project RAISE student Laurentt Gonzalez of Santa Ana College studied how the protein PTBP1, which is important for the development of animal cells, is delivered to two locations in the cell, the nucleus and the cytoplasm. Misregulation in PTBP1 leads to changes in the expression of genes related to cancer and neurodegenarative diseases. The project is a collaboration between Alison Miyamoto, associate professor of biological science, and Niroshika Keppetipola, associate professor of chemistry and biochemistry. Gonzalez explains her project to Maria C. Linder, professor of chemistry and biochemistry. 
Coastal wetlands are known as a "carbon sink" — meaning they are an ecosystem that can use and remove excess carbon, such as CO2, from the atmosphere, said Carlin, who is collaborating with Patty Oikawa, assistant professor of earth and environmental sciences at CSU East Bay.
"The more carbon in the atmosphere, the stronger the greenhouse effect, which causes the Earth's temperatures to rise, driving climate change," he noted.
Plants and phytoplankton — microscopic plants that live in the water in coastal wetlands — take in CO2 from the atmosphere during photosynthesis in order to grow. This biological process, combined with sediment accumulation in coastal wetlands, bury the carbon into the soil and create a net loss of CO2 in the atmosphere, Carlin explained.
"One way to think about it is that fossil fuels, such as gasoline, take carbon that was buried in the ground, then we burn it in our cars, and move it into the atmosphere, which can have a negative effect on our climate," Carlin said. "Coastal wetlands work in reverse by taking carbon out of the atmosphere and, using photosynthesis, create plant material that can eventually get buried back in the ground." 
Project RAISE student Jorge Lopez, center, of Santa Ana College presented his project, the "Purification and Characterization of Small Copper Carriers in Pig Plasma," at the Summer Research Symposium. He worked with Maria C. Linder, professor of chemistry and biochemistry, who studies how copper functions in the body.  Lopez worked on finding the best methods for isolating a new small copper molecule from the blood of pigs. This molecule was recently discovered by the Linder lab, and isolating it will allow determination of its chemical structure (what kind of a molecule it is) and what it does in the human and animal body.