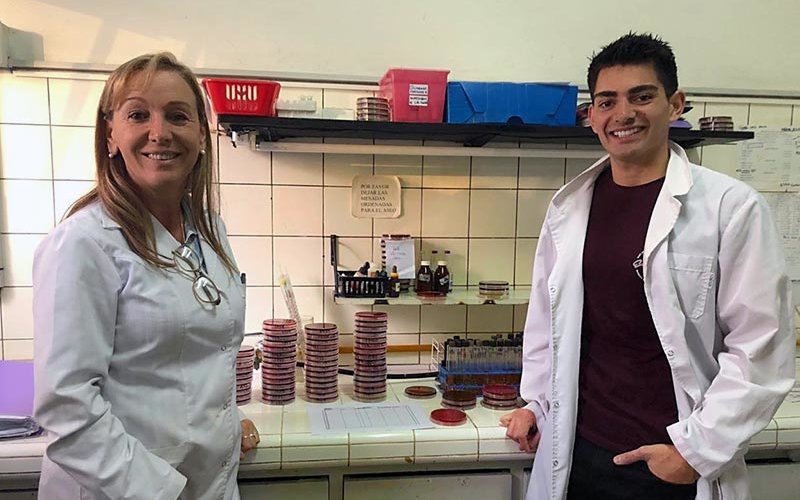 Student Savana Deeb studied in Thailand this summer researching attitudes toward HIV self-testing. The Southeast Asian country faces one of the highest rates of HIV in Asia and the Pacific. Deeb, who is studying health science, assisted interviewers surveying community members in a village in northern Thailand.
"They smiled at us and their faces lit up when we thanked them in Thai for doing the survey," she said. "I even had one older woman hug me, even though hugging isn't a norm in Thailand."
On the other side of the world, Roy Mendoza, a 2019 biological science graduate, worked with Argentinian researchers to determine the role of a cellular protein in promoting the spread of cancer.
The students' research experiences this summer at foreign institutions was made possible through Cal State Fullerton's Minority Health and Health Disparities International Research Training Program, directed by Marcelo E. Tolmasky, professor of biological science. Funded by the National Institute for Minority Health and Health Disparities, National Institutes of Health, the international training program began on campus more than 20 years ago.
The research program gave eight university students, including five from CSUF, the opportunity to spend 10 weeks conducting research in Argentina, England and Thailand. Since 2006, a total of 259 students (including the eight students this summer), and most of them from CSUF, have participated in the program. CSUF administers the program for the Los Angeles region, in which students from other universities can apply.
"Research in a foreign environment has a significant impact on students' personal and scientific growth, as well as their career path selection," said Tolmasky, an award-winning scientist in antibiotic-resistant research who's led the program since 2006. "International research provides minority students — many of whom are the first in their families to progress beyond high school — the opportunity to experience the broader international academic community, which is important if they are to become leaders in their fields."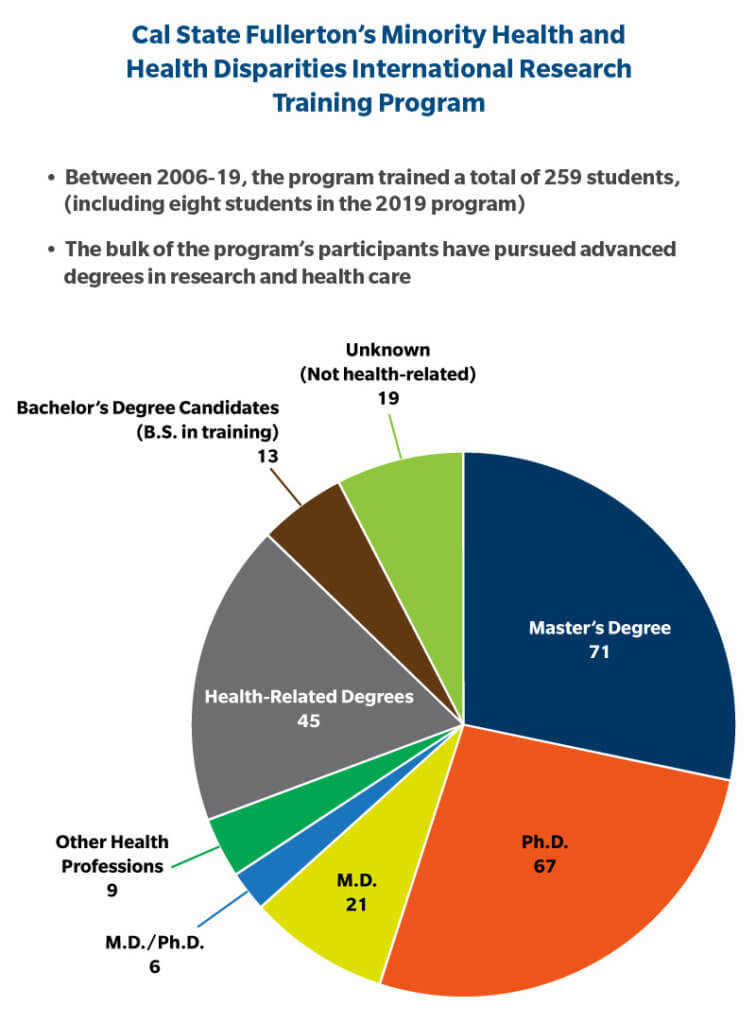 Both Deeb and Mendoza plan to apply to medical school to pursue careers as physicians. Through the program, each learned about novel approaches to international health problems and addressed health disparities from a global health perspective.
Deeb's work in the Department of Community Medicine at Chiang Mai University involved studying community members' perceptions, based on different ages, incomes, gender, education and marital status, on how likely they are to purchase an over-the-counter HIV test and perform the test on themselves. The new at-home testing was introduced to Thailand in April in hopes of lessening the stigma surrounding HIV and AIDS, Deeb said.
"An understanding of awareness and attitudes about HIV self-testing is necessary to tailor educational campaigns to improve utilization of testing and to decrease the prevalence of HIV and AIDS in Thailand," she added.
At the Institute for Research on Retroviruses and AIDS at the University of Buenos Aires School of Medicine, Mendoza conducted biological research that investigated the function of a protein called clusterin in breast and pituitary tumor samples.
"Through this research, we are attempting to further understand the role of clusterin in the proliferation and metastasis of cancer, in hopes of using this protein as a therapeutic target to treat patients across the globe," Mendoza said.
Mendoza's experience in the lab allowed him to put into practice the biological techniques he learned throughout his undergraduate career. In addition, connections within the lab allowed him to visit two public hospitals in Buenos Aires, where he shadowed a clinical microbiologist and infectious disease physicians.
"Conducting research in a laboratory setting allowed me to gain an understanding of the laborious efforts that go into finding novel therapies for diseases such as cancer. After seeing what Argentina's public health care system is like, I hope to use this experience when I am a physician to play a part in the improvement of international health care standards," said Mendoza, who also improved his scientific and medical Spanish-speaking skills.
Deeb's research experience gave her insight into health issues in Thailand, which is helping to prepare her for a career in medicine.
"I wanted to travel to a country where I could focus on working with a low-income population because I think everyone deserves to have proper health care, and I want to do what I can to contribute to that as a physician," she said. "Through this program, I gained both research and cultural experiences that reinforced my career goal."
For Mendoza, getting an up-close look at how foreign scientists work to help find cures and treatments for diseases also gave him a new perspective.
"Immersing yourself in another culture is a learning experience in and of itself," he said. "I truly believe that conducting research abroad gives you an opportunity to see and appreciate the collaborative scientific efforts by researchers around the world to bring an end to various diseases."