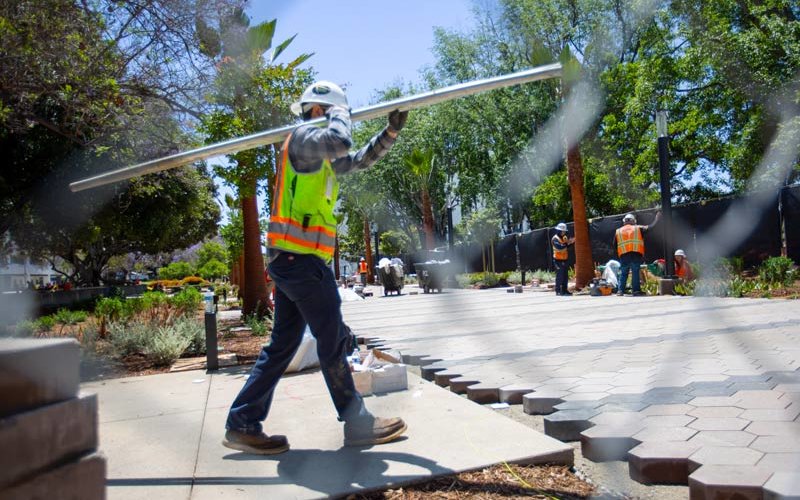 On behalf of the California State University Board of Trustees, Cal State Fullerton is hosting a public meeting to help shape the environmental impact report (EIR) for the university's Campus Master Plan Thursday, Sept. 19, from 5-8 p.m. in Room 130 of the Pollak Library.
The master plan provides a framework for implementing the university's goals and programs for student success by identifying needed facilities and improvements to support growth and development. Cal State Fullerton began updating its plan in 2017; the last update was completed in 2003.
Each time the master plan is updated, the university completes an EIR to study potential impacts on air quality, cultural resources, greenhouse gas emissions, hydrology, housing, transportation and more. During the Sept. 19 meeting, and throughout the 30-day period ending Oct. 3,  local public agencies and other interested parties will have the opportunity to suggest additional areas of study.
Developed through months of campus and community input, the proposed Campus Master Plan is now available at masterplan.fullerton.edu. Key components will be showcased and explained during a third campus and community open house in October.
The preferred plan calls for additional on-campus housing for up to 3,000 students, a 6,000-seat event center, recreational facility and student union upgrades. It also includes new facilities and programs to enhance the Fullerton Arboretum in line with its mission, reconfigured and potentially increased parking capacity, new transit mobility hubs and a College Park pedestrian bridge access across Nutwood Avenue.
To meet demand, the plan accommodates 32,000 full-time equivalent students (FTES) through the year 2040, an increase from 25,000 FTES last approved in 2016-17, plus a net new addition of just over 3.5 million gross square feet of student facilities.
Any campus improvements or additions included in the master plan are dependent on future funding.
CSUF's 241-acre main campus currently consists of 110 permanent buildings, including student housing for 1,980 residents and the 585-seat Gastronome dining complex. The Fullerton Arboretum, developed in cooperation with the city of Fullerton, is located at the northeast corner of campus.
Additional details about the plan can be found at https://masterplan.fullerton.edu/.