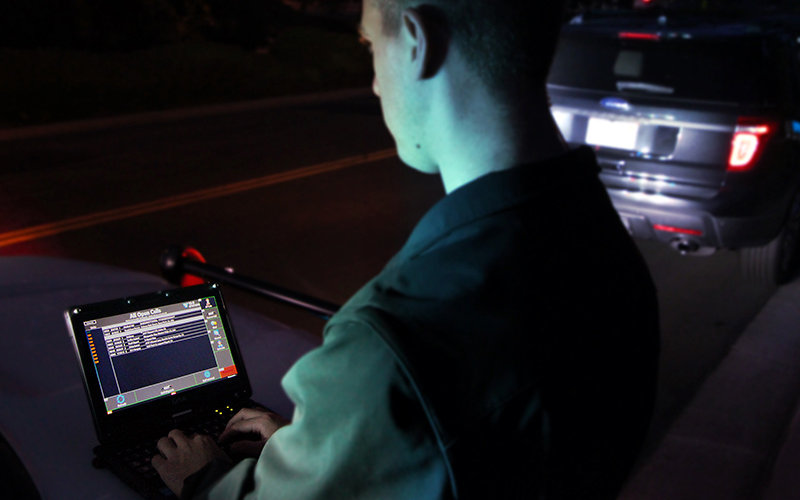 Titan Bryan Ruef may be sitting in class at Cal State Fullerton, but his mind is on Hurricane Dorian and the devastation it left in the Bahamas. The senior in computer science is the founder of 10-8 Systems, a cloud-based dispatch system built for managing emergencies. 
Right now first responder organizations Florida Search and Rescue, and Crowd Emergency Disaster Response Digital Corps are working with the Federal Emergency Management Agency in the Bahamas, using 10-8 Systems in their search and rescue operation. 
So far, more than 500 people affected by Dorian have been rescued or saved with the help of this software.
"We had 300 people trapped in a church when the roof collapsed," says Ruef. "We had a man and his baby stuck in a manhole, and they were able to get them onto a helicopter and into a hospital in Miami. As depressing as it is to see all these calls for rescue in the Bahamas, it's a really good feeling that we're doing something to help."
An Affordable, Customizable Search and Rescue Solution
In emergencies, minutes count and communication is critical, but many search and rescue groups are nonprofits with limited resources using makeshift response systems. 10-8 Systems addresses these problems and allows agencies to operate efficiently with each other.
"We're able to tailor our system to do exactly what the agencies need," Ruef explains. 
The software enables a dispatcher to quickly identify the exact GPS location of the caller. Rescue calls from multiple agencies can be put into one universal queue and response status can be tracked. And the system is cloud-based and accessible on cell phones, tablets or computers. 
Since the company's inception in January, 10-8 Systems has handled more than 27,000 incidents in 1,200 cities in 41 states. 
The Idea Is Born
Ruef recognized the need for an affordable dispatch system while working and volunteering in the area of public safety at the Orange County Sheriff's Department and as an emergency medical technician and ambulance dispatcher. A self-described "techie," he was astonished that such important work used outdated, error-prone systems. 
Using his computer science education, he built 10-8 Systems. "I found a way to combine my passions for computer science and public safety," he explains.
Building the Business
Building the software was one thing, but starting a company was another. Ruef engaged his older brother Kevin to handle business development and operations, but a key turning point for 10-8 Systems came last spring when Atul Teckchandani, associate professor of management and entrepreneur-in-residence in the College of Engineering and Computer Science, suggested that the younger Ruef participate in the CSUF Startup Competition. As part of an outreach program between Mihaylo's Center for Entrepreneurship and ECS, Teckchandani works with ECS students, coaching them on how to translate their ideas into businesses. 
The competition was the first time Ruef had ever pitched his business, but he impressed the judges and took first place, winning a $1,000 scholarship and six months in the CSUF Startup Incubator. 
"10-8 discovered a real-life problem in the dispatch space that needed to be solved," says John Jackson, director of the Center for Entrepreneurship and lecturer in management. "Their solution helps organizations accept, deploy and track services, such as search and rescue with increased efficiency and reliability. This startup is going to be big."
Ruef credits the competition's prepping process and the CSUF Startup Incubator for putting 10-8 Systems on the path to success. The incubator provides customized support for its entrepreneurs; now the company has a team of seasoned business professionals advising them and supporting their growth.
While most of 10-8 Systems' current business is centered on private security, small police departments and search and rescue, they're looking at broadening to snow and ice management, private events, transport and dispatching as a service. And they want to continue to be a low-cost solution to remain accessible to those who need it most.
"This work with the Hurricane Dorian people is very much a philanthropic thing," Ruef shares. "To be able to bring this to the people who are 'boots on the ground' and saving lives in these awful situations — it's an amazing thing."
For more information on entrepreneurship at Cal State Fullerton, visit the Center for Entrepreneurship website.