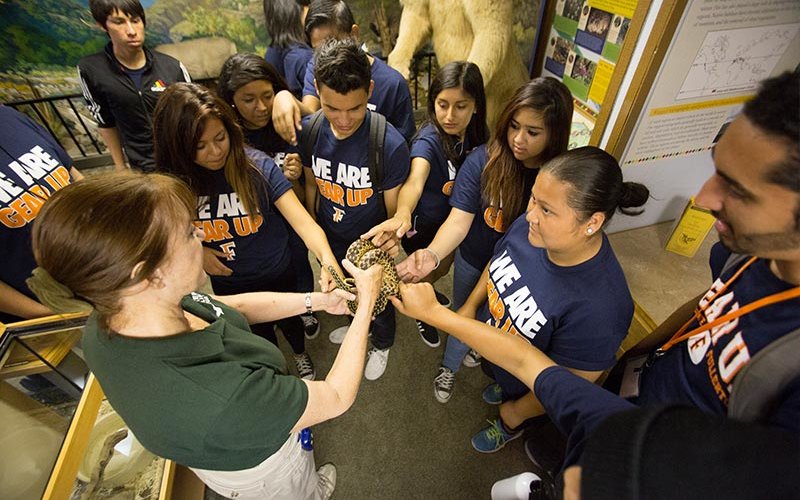 "I'm proud to have options now," says Cal State Fullerton alumnus Marcos Resendiz-Martinez '19 (B.S. electrical engineering).
Resendiz-Martinez might not have had those options — and possibly wouldn't have realized they even existed — if not for GEAR UP, one of several programs administered by the Educational Partnerships Department in CSUF's Division of Student Affairs. 
All the programs — GEAR UP, Upward Bound, Educational Talent Search, McNair Scholars, Kids to College, OC United Way-Destination Graduation — aim to expose underserved populations to higher education, offer support services to help them prepare for it, increase enrollment and improve success rates.
Opening Up Opportunities
Resendiz-Martinez first learned about college when he joined GEAR UP in middle school. But he admits that it took a while to fully grasp the importance of knowing about post-high school options and how they could impact his future. He now credits the program for initiating and nurturing that understanding.
"GEAR UP is great," he shares. "They have someone there when kids have a change of mindset that there's something beyond high school." 
As a sophomore at CSUF, Resendiz-Martinez decided to become a GEAR UP mentor to local middle and high schoolers. "It felt satisfying to work in the program that helped open a pathway for me," he explains. "I know I'm changing their options."
Fostering a College-Going Culture
Adriana Badillo, director of educational partnerships, says that the department works collaboratively with local schools, districts and community organizations to foster a college-going culture. Programming includes college visits, college planning, advising, STEM Academies, summer programs, SAT boot camps, internships and workshops.
Annually, Educational Partnerships serves more than 5,000 students between sixth through twelfth grade, primarily in the Fullerton, Santa Ana and Anaheim school districts where CSUF has established collaborative agreements.
In fact, Resendiz-Martinez spent the summer working with Anaheim Public Utilities as part of a new initiative through the Anaheim collaborative. There, he created engineering drawings, designed circuits and worked on graffiti abatement, gaining real-world, professional experience that will help him in his job search.
Combining Resources for Success
Erica Lizano '05 (B.A. sociology) also has experienced the life-changing effects of programs administered by Educational Partnerships. 
Coming from a single-parent, immigrant family, college wasn't necessarily on her radar. But when her high school English teacher told her to join Upward Bound, she got her first exposure to people of color in higher education and realized she could do it too. "I wasn't afraid of the process," she shares. "I just needed someone to say it was an option."
While the academic tutoring she received through Upward Bound was critical, Lizano believes the mentorship and role modeling was life-altering. "It changed my understanding of mentorship and influences how I teach. I know that role modeling is really powerful."
Like Resendiz-Martinez, Lizano became a mentor for high school students once at CSUF. 
At the same time, she was discovering her love for research through her coursework. A professor suggested pursuing a doctorate, but she wasn't sure how to do that. Once again, Upward Bound steered her in the right direction; an advisor for the program pointed her towards the McNair Scholars program, which prepares underserved students for the journey to a doctoral degree. 
Two masters and one doctorate later, Lizano has returned to CSUF as an assistant professor in social work. "I feel like CSUF was an incubator that provided safety and nurtured me," she says. "I went out into the world and have come back as a fully formed academic. Folks will always question [these programs] because a lot of resources go into them, but I fundamentally believe in them. I am proof that they work."
To learn more, visit the Educational Partnerships website.