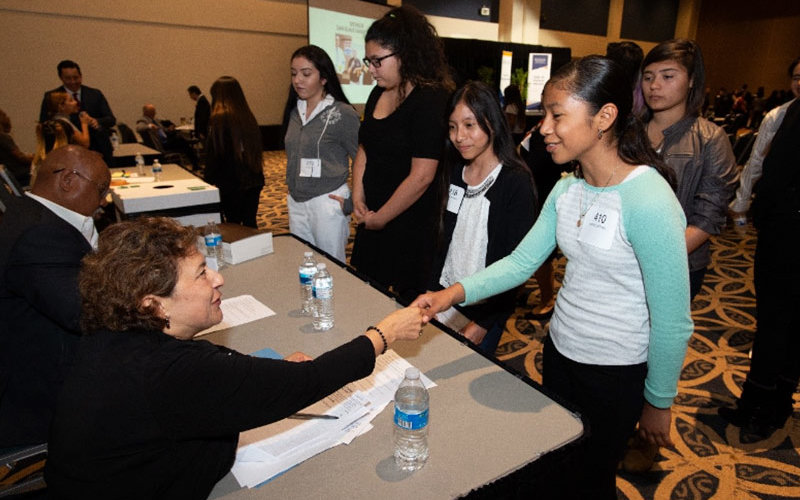 Imagine — dispatching software that allows first responders to save more lives in a natural disaster; a mobility device that helps the elderly get up after a fall; an eco-friendly 3D printing filament made from recycled plastics; or a modular, customizable pillow with cooling, heating and massaging elements. 
These are only a few of the hundreds of promising new ideas that judges will hear about when student entrepreneurs pitch for prizes at the seventh annual Titan Fast Pitch Competition Saturday, Oct. 26, 1-4:30 p.m. at Cal State Fullerton's Titan Student Union Portola Pavilion. 
The event is free and open to the public. Advance registration is not required, although minors must have a signed release form from a parent or guardian.
Hosted by the university's centers for Entrepreneurship and Economic Education, the competition promotes entrepreneurship and offers middle school, high school, community college and university students an opportunity to win scholarships. 
Travis Lindsay, manager for the Center for Entrepreneurship and CSUF Startup Incubator​, explains that the competition challenges students to take their first steps towards becoming entrepreneurs. 
"Being able to communicate your business concept in 60 seconds to someone you have just met in a way that gets them interested in learning more is a crucial component of entrepreneurship. While only a few students will walk away with scholarships on Oct. 26, all will leave with a real sense of what it means to act and think like an entrepreneur. And we definitely consider that to be a win."
In the hourlong "bullpen round," competitors give their 60-second pitch as many times as possible to the more than 50 judges in attendance. Based on judges' rankings, four competitors from each division advance to the "lightning round" where they pitch to another panel of judges and the audience. This time, judges delve into each business, asking follow-up questions on competitors, market size, revenue streams and strategy.
This year's judges include Cathleen Greiner, regional director employer engagement, business and entrepreneurship, Orange County, California Community Colleges, and CSUF alumni Karl Freels '12, '17 (B.A., M.A. history), Dan Black Family Trust; Victor Macias '09 (B.A. business administration-entrepreneurship), co-founder of Nui Foods; Mark Manguera '02 (B.A. business administration-management), founder of Kogi BBQ and Snow Monkey; Natalia Razeghi '01 (B.A. business administration-finance), MUFG Union Bank; and Paul Wasserman '87 (B.A. economics), founder, Ebates.com.
To register or get more details about the event and its sponsors, visit the Fast Pitch website. Learn more about entrepreneurship at CSUF on the Center for Entrepreneurship website.