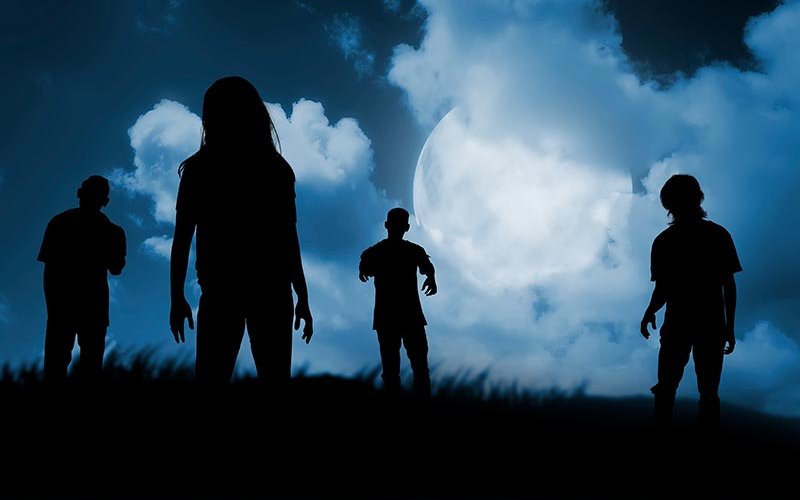 A vampire that feeds on juice from smartphones and laptops. A president who tries to use zombies to increase his approval ratings. A surfer who is transformed into a sea monster by a strange pollutant in the ocean.
These are some of the "monsters" created by students for their final assignment in Cal State Fullerton's "American Monsters" class, which examines what such characters can reveal about broader issues and fears in American life.
"By looking at historical examples, students learn how to connect monsters to their moment," explained Adam Golub, professor of American studies. "How do monsters speak to what scares us, to what we hate, to what we don't understand?"
For example, the 1931 movie "Dracula" — featuring a monstrous immigrant — provokes questions about immigration, religion and sexuality in the 1900s. The 1954 novel "I Am Legend," about a man whose neighbors have all turned into monsters, connects to the context of suburbia, segregation and masculinity in the Cold War. 
"Zombies challenge us to examine what it means to be human, to have free will, to be free and individualistic, to not be slaves to our desires or follow the crowd." -Adam Golub, professor of American studies
"Monsters are considered abnormal, so when we analyze them, we can get insights into how culture constructs our ideas about what is considered normal," said Golub, whose 2017 book "Monsters in the Classroom" explores this very topic.
"The monsters students have imagined tap into a range of issues we face today, such as climate change and pollution, mass shootings, immigration, racism, sexual violence, technology and surveillance, and social media addiction," he said.
Masters of Horror
Another lifelong fan of monsters is English professor David Sandner, who teaches a class on "Horror Fiction." From 18th-century Gothic literature to modern horror, the course examines works from such writers as Mary Shelley, Edgar Allan Poe, J.S. LeFanu, Bram Stoker, H.P. Lovecraft, Fritz Leiber and Stephen King.
David Sandner, professor of English, comparative literature and linguistics
"The horror genre moves with trends, waxing and waning, but has never left us," he said. "It has been able to be more explicit in its violence in modern times, but that is not exclusive to horror as a genre."
In the last few years, Sandner has been studying Mary Shelley's "Frankenstein" and created a database on Shelley's literary influence. The research coincided with the book's bicentennial in 2018.
Sandner, who calls today's cultural climate "a particularly uneasy time," said it is also a good time for writing horror. "Horror gives us a vehicle for talking about the dark feelings that our culture has set loose. Horror also lets us approach otherwise taboo subjects, including our penchant for violence and the unthinkable fact we are going to die and have no control over when."
A Few Good Villains
Jule Selbo, professor of cinema and television arts
Jule Selbo, professor of cinema and television arts, believes current anxieties are brought to life on the screen by writers and directors with similar fears.
"New fears of the growing primacy of tech and artificial intelligence, and loss of control of our lives, have been a boon to a new kind of horror stories," she said. "Feelings of being unable to actively affect the actions of political figures and corporations add to humans' feelings of vulnerability and danger."
"The Joker," the latest psychological thriller film based on a DC Comics character, conjures a particularly intriguing villain, said Selbo, who devotes three chapters to horror films in her book "Film Genre for the Screenwriter."
"The Joker is a homicidal psychopath. He's ruthless, unreasonable, smart, maniacal and manipulative," she said. "He's fascinating because he has no ethical or moral concerns and loves to inflict suffering."
Selbo offers a theory for why people want to invest time with such a character. "Perhaps the answer is that for a few hours we get to ride the scary story-train — and then walk out of the theater into a more reasonable world to trust, or hope, that true evil only exists in the movies," she said, adding, "The real horror, of course, is never really knowing." 
"The monsters that scare me the most? The 'human' ones: Hannibal Lecter, Patrick Bateman and Norman Bates. Those characters that I could, indeed, meet in real life — who have no moral compass." 
– Jule Selbo, professor of cinema and television arts