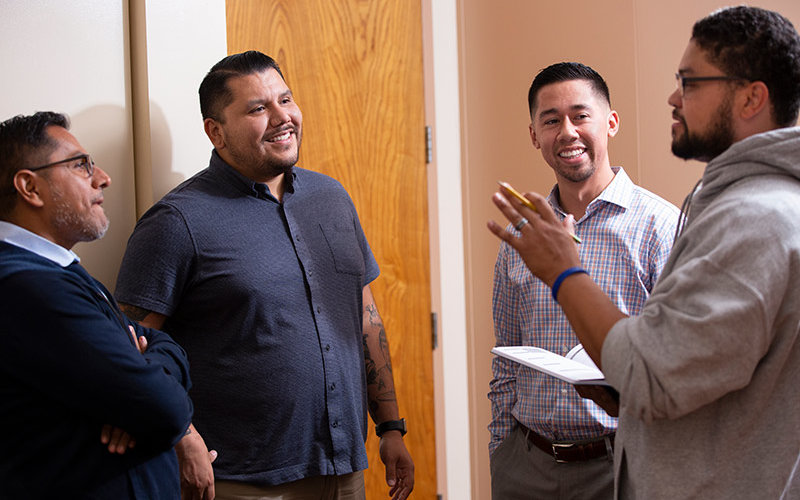 Jovanee Castrejon and Mychal Gabb want to become educators to serve the growing diversity of students in K-12 classrooms and alternative educational settings.
Gabb wants to teach biology to middle school students. Castrejon plans to teach in the prison system to reduce recidivism rates. 
"To teach is to help shape and build the future," said Gabb, a child and adolescent development major. "I want to inspire children to read, question and explore." 
For Castrejon, a history major, the reason he wants to teach is simple. Throughout his own K-12 education, there was a lack of teachers and administrators of color.
"Male teachers of color play a crucial role in the development of a student's life because they  bring cultural representation into the classroom," Castrejon said. "I hope to be a male role model to inspire and touch the lives of students in a positive way."
To guide and support their undergraduate journey to join the teaching workforce, both students are part of Cal State Fullerton's "Men of Color in Education," relaunched this fall semester in the College of Education's Center for Careers in Teaching.
Twenty males of color are part of the cohort program, supported by the College of Education and a CSUF Graduation Initiative 2025  Innovation Grant, which funds projects that focus on areas such as decreasing time to degree, increasing graduation rates and decreasing achievement gaps — goals of the California State University Graduation Initiative 2025. 
The program offers advising, mentoring, career counseling and a learning community to support male students in persisting toward earning a bachelor's degree and a teaching credential, said Julián Jefferies, associate professor of literacy and reading education, who was awarded the grant. 
Educators collaborating on the effort include Jefferies; José Flores, Jr., academic adviser in the College of Education; Miguel Martinez, College of Education career specialist; and Rosie Ordoñez-Jasis, chair and professor of literacy and reading education.
Latino and African American men represent only 2% of the nation's teaching workforce, according to the U.S. Department of Education. But within the public school system, ethnic and racial minorities make up more than half of the student population, Jefferies said.
"The need to confront and push back against racism, which we know exists within our schools, is dire and requires our immediate attention. Unfortunately, students of color, for the most part, aren't taught about race or racism or let alone their gender and sexual orientation within their K-12 educational experiences. Instead, Latino and African American boys and students of color deserve an educator who is committed to centering their identities and lived experiences within the curriculum," Flores said.
"This opportunity for students to explore and make meaning of their social and cultural identities within the classroom sets the stage for pushing back against intolerance, challenging racism, and combating sexism. Men of Color in Education is designed to prepare male educators of color to serve as agents of social change within the classroom, where students can develop a culture of resilience and resistance."
To help build a sense of belonging and camaraderie among cohort members, all are enrolled in the "Literacy Education for Social Change" course, taught by alumnus George Herrera, principal of La Puente Elementary School, who shares his own experiences as an educator. 
Students participate in "Café y Pan Dulce Thursdays," designed to foster a sense of community and belonging with one another, while also developing academic and professional readiness and an understanding of what it means to become a college educated male, Jefferies said. Next summer, students will attend a retreat that builds upon exploring teaching careers.
"Through this program, we're getting vital information that we need to become aware of being a man of color in education," Gabb said. "We have the opportunity to speak with incredible people who give us different viewpoints and tips — and we are building a community where we can be comfortable in our own skin. It's a brotherhood of like-minded individuals."