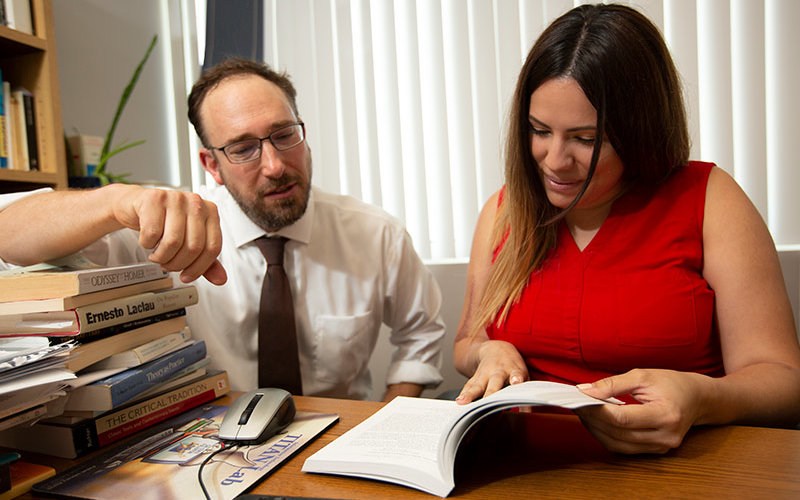 "I grew up hearing about the cartels," says Jessica Lombardo, a Cal State Fullerton senior majoring in English, comparative literature and linguistics. Her family came from Sinaloa, the state in Mexico from which came 'El Chapo' — Joaquín Guzmán Loera.
"I was always interested in the differences in how narcos are portrayed here versus there."
Lombardo has been studying narco culture as a McNair Scholar and was recently selected as a California State University Sally Casanova Pre-Doctoral Scholar.
"I first looked at the Mexican narco culture to find out how it all started. The culture was bigger than I expected, and I had to do a lot of historical research just to define what narco culture is."
"Through my research I have found that narco culture varies greatly depending on what geographical (Mexican/American) lens you choose to apply. The simplest way, I think, to explain narco culture — that barely skims the surface of it — would be to view it through the recent popular media portrayal. 
"The narcos seen in Netflix's "Narcos," for example, are the popular archetypes. Rich, flashy, violent and male dominant," Lombardo explained. "They are seen in this medium embracing a role where they are acting against the government of both the U.S. and Mexico, and it primarily focuses on their illegal activities as if they were a separate entity."
That acting against the government is what leads to a romanticized portrayal of narcos in Mexican literature, she notes. 
"In Mexican culture there is a deep mistrust of the government, because of corruption, that leads to citizens preferring to rely on the narco in their towns, who are often the ones who are seen to protect and help them."
She adds that many narco cartels are known to boost the economy of towns by building tourist attractions, and helping the locals by providing jobs and building schools. 
"In Mexico, cartel members could be your neighbors and you don't see them demonized as we do here," says Lobardo. "Drugs are their business, and members of the cartel know not to use what they are selling."
"In a way, they are seen as doing more for the people than the government," Lombardo explains.
This is a completely different narrative than what Lombardo has seen in America. "In America, we focus on just the violence and illegal activities. In American literature, the protagonists are often in the CIA, DEA, or some other law enforcement position, that automatically places the narco as the antagonist."
"There are two very different narratives, as if it were two very different cultures," Lombardo adds. "It's been really interesting to see the shift in how it is perceived even here in Orange County."
Continuing Support for Research and Graduate School 
Lombardo is one of 11 underrepresented students at Cal State Fullerton who have begun a new educational journey as Casanova Scholars, working toward a doctoral-level degree and, someday, teaching on a college campus. 
"I always wanted to teach," says Lombardo. "It just changed as I got older — from teaching elementary school, then high school. Now I want to earn a doctorate in English, then teach and conduct research as a college professor."
The California State University Pre-Doctoral Scholars Program is a systemwide initiative launched in 1989 to ensure that traditionally underrepresented students have more access to doctoral-level degrees and to broaden the pool of talented faculty members inclined to teach at the CSU. A study of former scholarship awardees indicates that more than 40 percent enter a doctoral program by the term following their predoctoral scholar year. 
Eight of the Casanova Scholars at CSUF are also McNair Scholars, a federally funded program in which low-income, first-generation and underrepresented students receive the strategies and tools to successfully prepare for and apply to graduate school. A major component of the program is conducting graduate-level research. 
This year's class of Casanova Scholars (McNair Scholars noted with an *):
Ingred Garcia*, senior, economics
Kimberly Hardaway*, senior, human services
Jenan Husain, graduate student, psychology
Barbara Linan-Martinez*, senior, American studies
Jessica Lombardo*, senior, English, comparative literature and linguistics
Mariana Lopez*, senior, sociology and psychology
Denyz Melchor*, senior, physics
Carla Sotomayor '17 (B.A. psychology), graduate student, counseling-marriage and family therapy
Lizette Ruiz '19 (B.A. psychology), graduate student, psychology-clinical
Shana Tables*, senior, business administration-management
Isaiah Thompson*, senior, history and religious studies
Each Casanova honoree will receive a $3,000 scholarship and be offered opportunities to explore and prepare for doctoral programs, including a summer research internship program at a doctoral-granting institution, travel to national symposiums, conferences or professional meetings and other related activities. More information is available online.