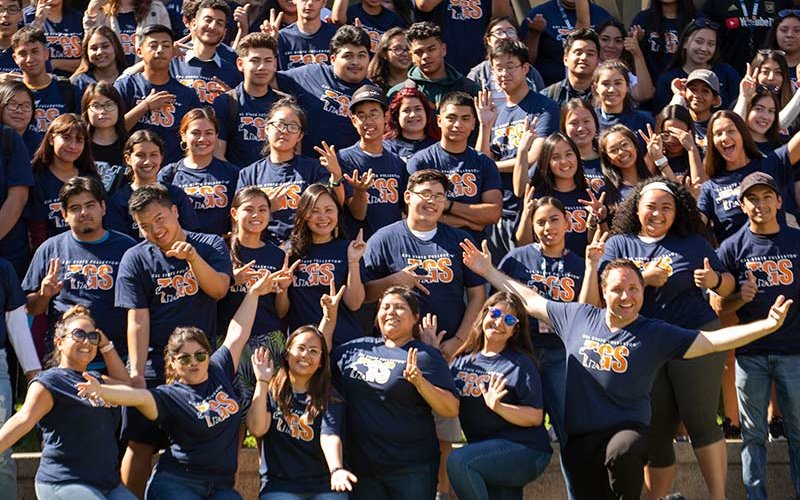 For the second year in a row, Cal State Fullerton has received the INSIGHT Into Diversity's HEED (Higher Education Excellence in Diversity) Award. CSUF is one of 95 institutions to receive this honor.
 "This recognition is the direct result of campuswide efforts to transform our many equity and inclusion conversations into strategic actions that are embedded in our day-to-day work," said CSUF President Fram Virjee. "As we often say, our goal is to not only increase diversity among our faculty and staff ranks, but also to leverage the proven power of this practice to abolish equity gaps, increase graduation rates for all students and lead the nation in equity and inclusion practices."
"The HEED Award is affirmation that a campus is serious about diversity and inclusion," agreed David Forgues, vice president for human resources, diversity and inclusion. "Winning this recognition last year was quite exciting. Now, with our second award, it is clear that Cal State Fullerton continues to lead in diversity and inclusion in important ways."
Bobbie Porter, assistant vice president for diversity, inclusion and equity, has helped align campuswide diversity and inclusion efforts, as well as expanded the university's commitment to recruiting and retaining a high-quality and diverse faculty and staff. She also has focused on partnering with such campus groups as the Diversity Initiatives and Resource and the Faculty Development centers.
"Our goal is to identify barriers to recruitment and retention of faculty from underrepresented groups and develop plans to remedy these issues," she said. "The goal is to weave diversity and inclusion into the work performed here every day."
Two examples of recent campus programs to increase diversity and inclusion include:
Tuffy Graduation Scholars
The Tuffy Graduation Scholars (TGS) program is designed to support academic success and graduation goals by providing opportunities for students to connect with peers who have similar academic interests, facilitating access to advisers and building a sense of community.
TGS participants will receive personalized and comprehensive advising support throughout their years at Cal State Fullerton. They also can count on a TGS staff member to help them navigate the academic process, major requirements and the campus community. Scholars will receive opportunities to get involved in leadership, internships, student employment, service to community, career opportunities and more. A new program, TGS has been running since July 9. Currently, 753 students have accepted the invitation to join. 
What Brings Us Together Luncheon
In every culture, friends and families gather for meals to promote togetherness and dialogue. Cal State Fullerton recently held a "What Brings Us Together Luncheon" to bring together members of the "Titan Family" for a meal. This allowed participants to catch up with old friends and meet someone new. The luncheon also encouraged Titans to sit down and discuss topics that allowed them to "story-tell" their experiences and create dialogue across differences. More than 500 faculty, staff, students and community members participated.
For more information on the university's efforts, contact Bobbie Porter at 657-278-7326, boporter@fullerton.edu or check out the Diversity, Inclusion and Equity program's website.