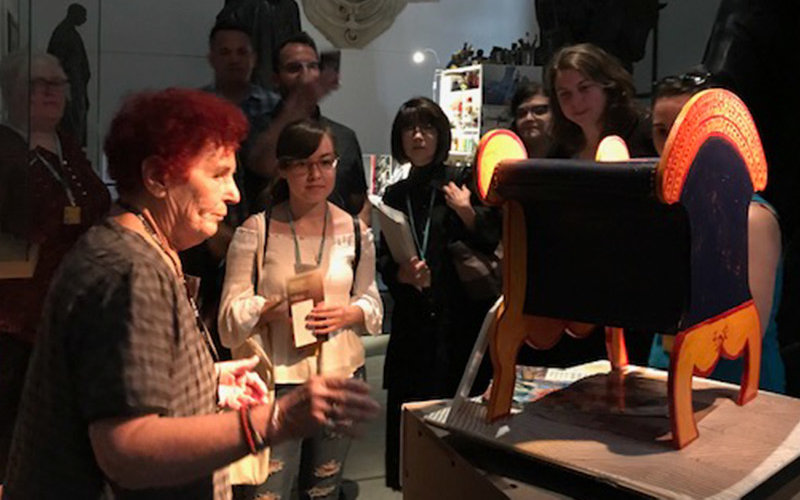 Cal State Fullerton theatre students who are focused on the design and technical production of theater traveled to the Czech Republic this summer — for a rare opportunity to attend the 2019 Prague Quadrennial of Performance Design and Space.
"It is the largest international festival of theatre and stage design," explained Hyun Sook Kim, associate professor of theatre and dance, whose costume design work was among the exhibited work at the 10-day conference held every four years.
The performance design and space exhibition presented works by theatre artists, professionals and students from more than 79 countries and included more than 600 live performances, talks, lectures, presentations, masterclasses, workshops and other events.
"The quadrennial showcases the world's top designers," adds Lisa Long, associate professor of theatre and dance, who led the study abroad experience. "The works were so fully realized, they provided immeasurable inspiration."
The quadrennial took up the city's conference center and grounds, with some works displayed throughout the city of Prague, said Long. For the students, "It was a great opportunity to explore what their peers are doing and the range of the work created by industry professionals."
"As a designer, Prague itself inspired me," said Tori Martinez, a senior majoring in theatre arts-specialized studies. In addition to the quadrennial, Martinez and her fellow students attended performances and other events. "My roommates and I, for example, found an opera to attend and enjoyed seeing theatre outside of the U.S.  My classmates, I and Lisa Long, also attended a ballet and we were able to discuss the show at dinner afterwards."
Fellow theatre arts-specialized studies senior Lauren Wiedman agreed. "The trip to Prague was amazing for personal and scholarly reasons. Not only was the conference full of theatrical inspiration and people to talk to about the craft of theater but the city itself provided a beautiful landscape to explore. I found a beautiful graveyard full of wonderful architecture and plants. I took a ton of 'artsy' photos that inspired me to go out looking for similar areas in my hometown."
Among those who shared their work and knowledge with the students was British scene designer Pamela Howard, international chair in drama at the Royal Welsh College of Music and Drama, as well as a visiting professor at Arts University Bournemouth.
"This was my fourth time to participate," added Kim. "My experience as an artist, to be a part of PQ, has had an enormous effect on my artistic philosophy and belief, greatly shaped my professional career, and made me grow as a 'global citizen' who can liberate thoughts and mind from any confined space.
"As a teacher, I am passionate about encouraging young students to learn about this," Kim stressed.
"I enjoyed my time there," Wiedman added. "And I would definitely do it again in a heartbeat."
"I will certainly never forget," said Martinez. "I already miss it."