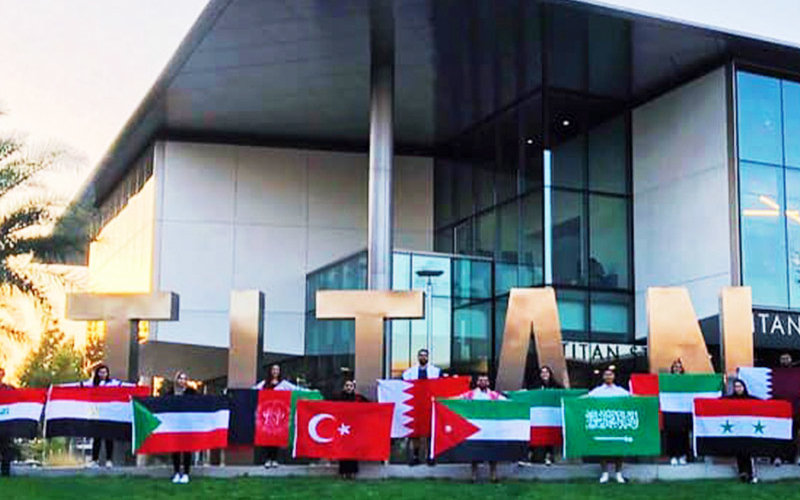 To celebrate the Southwest Asian North African community (SWANA), the Asian Pacific American Resource Center, in partnership with the Students for Justice in Palestine, the Lebanese Social Club and the Iranian Student Association, is hosting a week of activities, beginning today, Monday, Oct. 21.
"The SWANA Week celebration is a way for students, and faculty and staff members, who identify with, and are part of this community, to come together, find each other, celebrate their culture and educate the Cal State Fullerton campus," said Jacob B. Chacko, coordinator of the Asian Pacific American Resource Center.
The Asian Pacific American Resource Center is a place for students to connect and build community, Chacko added. The first SWANA Week was held on campus last academic year.
This year, additional organizations are involved, including the CSUF Coptic Club and the Muslim Student Association. Community organizations, including the Arab Civic Council and Take on Hate, will be participating in the "Diaspora Tabling" event with student organizations, beginning at 11 a.m. Thursday, Oct. 24, along the walkway between Titan Student Union and Pollak Library.
Other events, all open to the public and featuring different foods from the SWANA community, include the following:
Noon-1:30 p.m., Monday, Oct. 21, "What is SWANA?" a discussion about shifting away from using the term "Middle Eastern," Titan Student Union, Hetebrink Room
1-3 p.m. Tuesday, Oct. 22, "SWANA Sweets," Diversity Initiatives and Resource Centers, Room 180 of Pollak Library.
3-4 p.m. Wednesday, Oct. 23, "Riding the Hyphen: Being Afghan-American," a discussion on mental health, hyphenated identities and social work for vulnerable communities in the U.S. and abroad, Titan Student Union, Gabrielino Room
 4-8 p.m. Thursday, Oct. 24, "SWANA Mixer/Dabke Night," featuring a professional dabke crew performance at 5 p.m. and a dabke workshop to follow, in front of the Humanities-Social Sciences Building. Dabke is a native Levantine folk dance.
 
For more information, contact Chacko at 657-278-7569 or jchacko@fullerton.edu or visit the Asian Pacific American Resource Center.