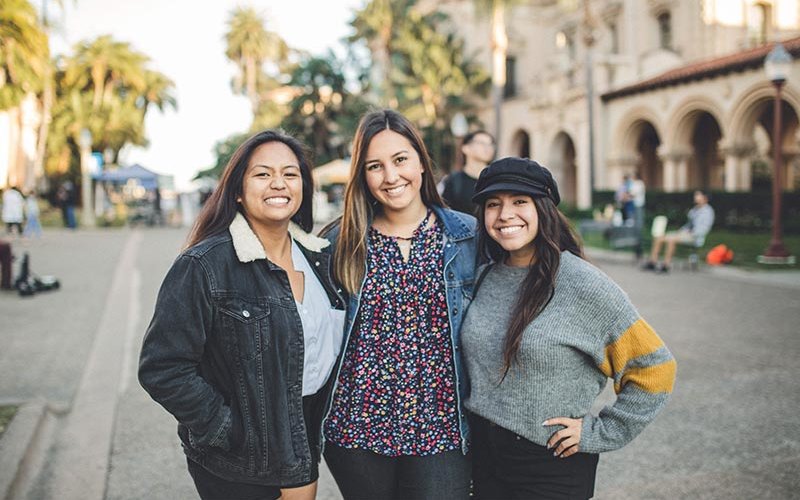 Near San Diego's scenic waterfront Oct. 18-22, Cal State Fullerton public relations students and faculty will be making a splash at the Public Relations Society of America 2019 International Conference and its student counterpart, the Public Relations Student Society of America Conference.
CSUF's campus chapter of PRSSA won the competitive bid to be the sole host for the student conference attended by hundreds of public relations students from across the globe.  
"Our PRSSA board put forth an incredibly strong and compelling proposal, including a conference theme, proposed programming, tour sites and session speakers," explains Ken Hagihara, faculty adviser to PRSSA and lecturer in communications.  
PRSSA board officers Kayla Fernandez and Kristen Cuaresma, both seniors in cinema and television arts, and Isabella Garcia, senior in communications-public relations, were appointed as the PRSSA Conference committee.
"The undertaking has provided them with a depth of experience that they would not be able to duplicate in any other educational environment," says Hagihara. "And planning and executing a robust five-day conference required them to go beyond their comfort zones." 
Fernandez elaborates, "Planning the conference has helped me excel in my current classes and understand more about the [PR] industry. Our team was challenged with meeting large sponsorship goals, researching and finding renowned speakers and executing an effective social media strategy. My communication and collaborative skills advanced, and my writing has improved. I'm grateful for the opportunity because I can implement what I have learned when I enter the professional workforce."
At the PRSA side of the meeting, Hagihara will be on the agenda as an inductee into the Public Relations Society of America's College of Fellows, recognizing his contributions to advancing the public relations and communication field.
"This is undoubtedly one of the high points of my professional career. When I read the names of the fellows over the past 30 years, I'm humbled to join them. And I have been overwhelmed by the support shown by the department. I'm proud to be able to add a PRSA Fellow to our outstanding faculty."
Dean Bey-Ling Sha, Dean Kazoleas, Doug Swanson and Elise Anguizola Assaf
Other College of Communications faculty attending the conference include Dean Bey-Ling Sha, who will give a keynote address on "Navigating Waves Of Change: How Identity And Public Relations Facilitate Organizational Survival." Dean Kazoleas and Douglas J. Swanson, both professors of communications, and Elise Anguizola Assaf, visiting faculty in communications, will talk about crisis communications and student-run public relations agencies. 
For information about the public relations program or PRSSA at Cal State Fullerton, visit the College of Communications website.