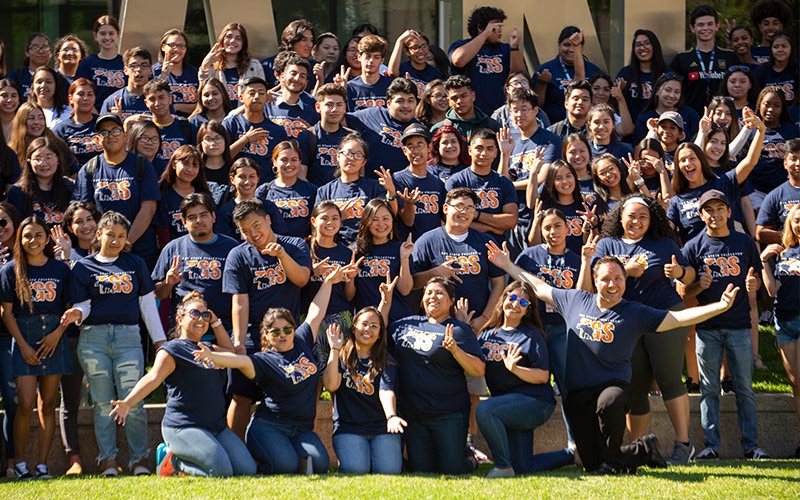 Mohammed Khafaja moved to the U.S. when he was 13 from Baghdad, Iraq. He struggled to learn English and adapt to public school. As an incoming Cal State Fullerton freshman majoring in mechanical engineering, he now speaks English fluently and is the first in his family to attend college.
Metztli Mora's family immigrated to this country from Oaxaca, Mexico. Her father didn't make it past an elementary school education although her mother worked hard to earn a bachelor's degree in Spanish from Cal State Fullerton. Mora, a psychology major, wanted to further her education beyond high school to pursue a career helping children and teens.
To assist these incoming freshmen in earning a college diploma and reaching their career goals, both are part of the new Tuffy's Graduation Scholars program, a cross-divisional initiative to guide first-year students every step of the way during their Titan college journey. Launched this fall, the program is a collaborative effort between the divisions of Student Affairs, Academic Affairs and Information Technology.
"Through this four-year program, students have identified partners in their academic journey. Our sole responsibility is to help them navigate the university, their college and major, and support them in their development as a college student," said Catherine Ward, executive director of retention initiatives.
The program demonstrates the university's commitment to serving an increasingly diverse student population, Ward added. It is designed to increase student academic success and encourage students to complete their degree program in four years. The effort is funded through the California State University's Graduation Initiative 2025, which aims to increase graduation rates for all CSU students, while eliminating opportunity and achievement gaps.
To participate, students met a combination of eligibility criteria, which includes financial aid eligibility, first-generation college student status, and that they are not participating in another university scholar program, Ward said.
Currently, 761 freshmen are participating in the program and are receiving a range of services and support to keep them on track academically. These include personalized academic advising, counseling and career services, and activities to engage in campus social life to develop a sense of community. Scholars also have the opportunity to serve in leadership roles and get involved in community service projects.
This program allows the CSUF community to focus intentional efforts that engage, support and expand equity-minded practices on our campus in order to ensure that all students who enter in the door get the very best chance at graduating. 

— Clint-Michael Reneau, associate vice president for student affairs
To be part of the program, students must meet with an academic adviser once a semester, be involved in three campus events each semester, undergo graduation checks, maintain a 2.5 GPA or higher and enroll in 30 units each academic year, which can also include winter and summer sessions. Scholars also receive a Dell laptop computer to use, provided by Information Technology. If students complete two years in the program, they can keep their computers. IT, which offered technology orientations, used GI2025 funds to purchase the computers. 
"One of our goals is to shepherd these students into their student success centers, where they can find college specific support, and feel a sense of belonging and connection to the university," Ward noted.
For Mora and Khafaja, that is why they joined the program — to get the resources and services they need to stay on course in their majors.
"It's my first semester here and having help with the transition from high school to college is helpful earlier in my college career," Mora said. "By participating in this program, I'm not only getting academic help, but I'm also making connections with people, meeting new people, and getting more involved on campus."
In making the transition to college, Khafaja relayed he "felt very lost." Not having a family tradition of attending college was challenging. But by being part of the scholars program, he's getting his questions answered and is connecting with resources, such as tutoring.
"My goal is to graduate as soon as possible — and to live the American dream," Khafaja said.