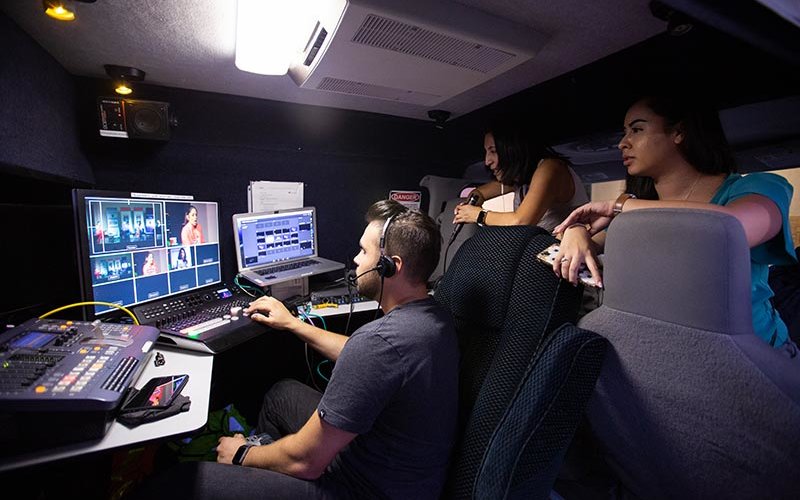 It was standing room only in Cal State Fullerton's Titan Theater Oct. 25 when Yarel Ramos, Univision host of Edicíon Digital California, took the stage to moderate "Destino 2020: Our Voices, a Campus Town Hall," a discussion of what's at stake for the Latinx community in the 2020 election and census. 
Beyond educating and activating Titans, the forum also provided an opportunity for CSUF communications students taking "Spanish Language TV News." For the first time since the college's Latino Communications Institute and Univision partnered in 2016 to prepare a pipeline of bilingual, bicultural communicators, students co-produced the livestream broadcast with the television network.
Students worked the cameras, controlled and monitored the feed from Univision's production truck and shadowed Univision producers and talent before and during the program. Senior Giselle Martinez, who is majoring in communications-journalism, was excited to run the camera; she wants to become a producer, and hands-on experience like this is invaluable.
Tania Thorne, senior in communications-journalism, is intent on becoming a reporter. She was there to cover the event for Al Día and OC News, CSUF's student-produced television news programs in Spanish and English, respectively. 
"This is not just a student event. It impacts us and affects all of us in the community," she shared. "I became a citizen a little while ago and it's such a privilege to be part of this. We're producing two packages — one in English and one in Spanish — for the school and community."
Tania Thorne, senior in communications-journalism, conducts an interview.
The town hall featured Jeanette Vasquez, vice president of the Fullerton School District Board of Trustees; Ely Flores, California director of civic engagement for the National Association of Latino Elected and Appointed Officials; and Aaron Aguilar, president of CSUF Associated Students Inc. 
All emphasized the importance of voting and filling out the census, while acknowledging barriers to doing so, such as understanding the U.S. political process, limited language and technology skills and fear of providing information. They stressed the need for Latinx youth to champion these causes within their own families and community and prepare to assist their elders in these processes. 
The town hall was a success, with more than 81,000 viewers watching the Facebook livestream broadcast. 
"Univision leadership took notice," said Inez González Perezchica, director of the Latino Communications Institute. "They have not previously seen such viewership numbers for this kind of livestreamed programming. We are excited to have facilitated this civic engagement conversation with our students."
For more information on the Latino Communications Institute, visit their website.