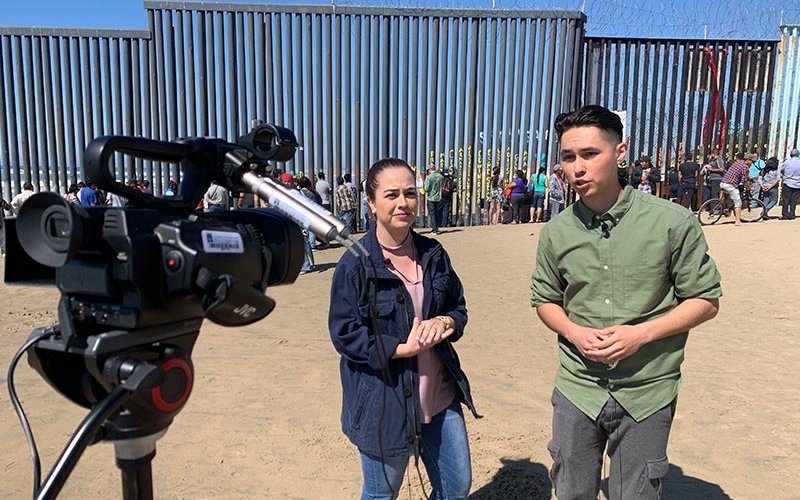 Dominic Torres, senior in communications-journalism, can talk at length about the difference "Al Día," Cal State Fullerton's student-produced Spanish-language newscast, has made in his life. 
Growing up in San Bernardino, he attempted college at a few locations before landing at Cal State Fullerton. Then he signed up for the "Reporting About Minorities of the Southern Border" course to gather and produce stories about immigrants at the U.S.-Mexico border.
"The border course completely changed me, my identity and my relationship with journalism," Torres says. "If I hadn't taken it, I probably would have dropped out of college. Going [to the border], reporting on stories really changed me, and gave me a different way to look at how I live in the U.S. and identify as a Latino. I feel like I have an obligation now to tell the stories of my people."
Today, Torres is close to graduation and starting his career with CNN in Washington, D.C., for the 2020 presidential election.
The border experience with "Al Día" had a big impact on Regina Yurrita '19 (B.A. communications-journalism) as well. "I took the class never thinking that I wanted to pursue a career that involved writing and speaking Spanish. Then I realized it connected me with my roots." 
Now Yurrita is a bilingual reporter for Univision and NBC in the Coachella Valley. 
The students' experiences at the border culminated in the broadcast "Al Día: A Border Emergency." The work has captured national attention, sweeping student media awards across the U.S.
Jesús Ayala, lecturer in communications and faculty adviser for "Al Día," couldn't be prouder of the students for competing at the national level among the very best journalism schools in the country. 
"The fact that a team comprised entirely of Latino students competed with bilingual content makes it extra special because it validates our experiences as Latinos and shows that our stories are worthy of being recognized and honored."
These are difficult stories that are being produced by networks, not by local news outlets. We were reaching for the next level.
Yurrita is honored by the accolades too. "The students took so much pride in their work, and I saw how hard they worked. We were thinking outside of the box, really pushing hard for something more creative and showing that being bilingual matters." 
Torres notes that the awards and the recognition he's received as executive producer for the piece have helped him realize that he's capable and his work is worthy.
Reflecting on the experience, Yurrita explains how the hands-on learning prepared her well for her career. "In school and internships, I was never out where the story was taking place doing live reporting. Here we got that real experience." 
To report on family separations at the border, she describes how she had to dig her way through city government contacts, foster care employees and social workers to find the right story. As a student, some were hesitant to engage with her. "You really have to have everything in place and use communication skills to persuade them to tell their story. In some cases, you only have one shot, so you have to be ready."
Torres says that "Al Día" treats students like professionals and empowers them to be real journalists. He believes their work stood out from other schools' because "we've been trained to know a good story and pursue it. No other school is doing this — going to the border to tell these stories. And they're not doing it from the perspective of brown people and with our level of professionalism." 
Yurrita adds, "These are difficult stories that are being produced by networks, not by local news outlets. We were reaching for the next level."