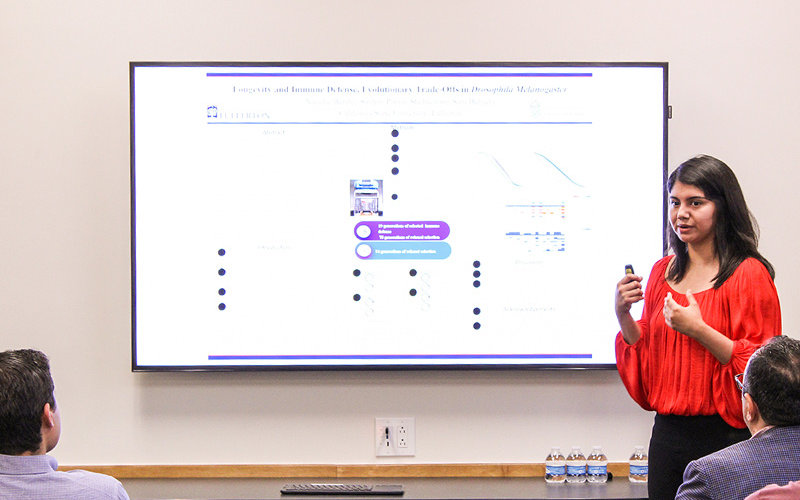 For five years, students have been receiving exposure to and experience in big data science research — and finding a pathway to future careers.
"Big Data Discovery and Diversity Through Research Education Advancement and Partnerships," or BD3-REAP, is an effort to expand students' exposure to conducting research with large amounts of data and learning how to make sense of it, analyze it and convey it.
The program has received more than $1 million in funding from the National Institute of Minority Health and Health Disparities, and has helped not only its scholars but numerous students whose classrooms now involve research into big data.
By just about any measure, BD3-REAP has succeeded, says its director, Archana McEligot, professor of public health.
"Out of our first six students, three went on to graduate school and the other three are now working in science fields," McEligot shares proudly.
Emma Navajas, a Class of 2018 scholar who graduated magna cum laude with a B.S. in health science, is now working toward a doctorate in epidemiology at the University of North Carolina at Chapel Hill.
"Being a part of the big data program opened many doors for me and granted me the opportunity to expand and refine my research abilities," says Navajas. "My participation in the big data program solidified my drive to pursue research as a career and taught me many valuable skills, such as analyzing data and writing manuscripts."
Navajas' sentiments are echoed by Nayalie Benitz Santos, who graduated last spring cum laude with a B.S. in health science, and is now attending UCLA. Her big data research took her to USC where she investigated the association of certain health conditions and their prevalence in the Mexican-American community, as well as associated risk factors with Alzheimer's disease.
"My participation in BD3-REAP helped me determine that research is something I enjoy, and I definitely plan on continuing as part of my career," Benitez Santos says. "I believe my college experience allowed me to gain the critical thinking skills I need to apply to the workforce. My education at CSUF really helped me think about the different fields I am interested in and how to become an interdisciplinary student and career professional."
In addition, Benitez Santos notes she recently accepted a position to mentor undergraduate students at UCLA.
"Being part of the (BD3-REAP) program definitely impacted my decision to apply for the position … I know the impact that such programs have on students' education and career trajectory. I would like to give to students what many of my amazing mentors gave to me, which is guidance and support." 
"The value can't be underestimated," says McEligot. "This program offers them a glimpse into something other than what they've known or what they've been doing — and it gives them the confidence to say 'I can pursue something challenging but new, and it's worthwhile pursuing.'"
In addition to the research opportunities, students are given one-on-one advising and assistance from multiple faculty members throughout the campus. Beyond the program scholars, big data concepts have been introduced into several existing CSUF courses to give more students opportunities to explore, analyze and understand vast amounts of data.
New Scholars Join BD3-REAP
The latest cohort of students, pictured above, to join the two-year program are: computer science majors Alyssa Bright, Maria Diaz and Brandon Tomich; public health major Mimi Ngo; and mathematics (probability and statistics concentration) majors Juan Cabrera and Gwendolyn Lind.
More information about the program can be found on the BD3-REAP website. To support such efforts, contact Elizabeth Easton, director of development at eeastin@fullerton.edu.