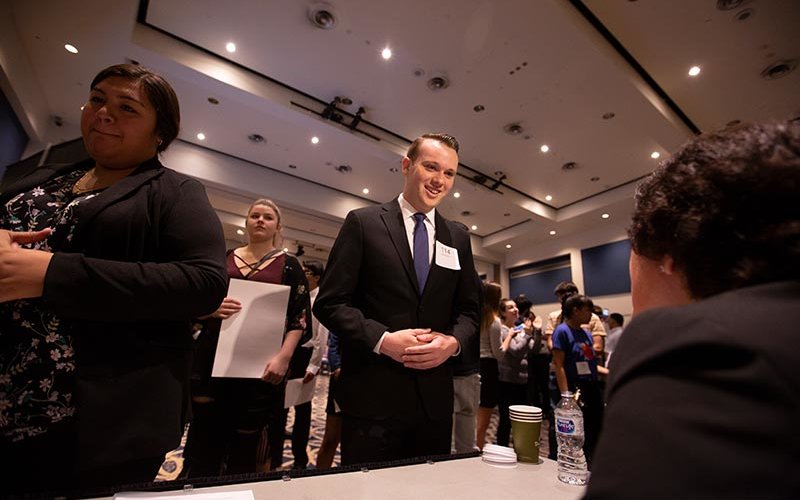 Any viewer of television's "Shark Tank" reality show — where entrepreneurs try to convince members of the investor panel to back their idea — understands the importance of a quick, pithy and inspiring business pitch. 
Cal State Fullerton's Center for Entrepreneurship recently hosted its annual Titan Fast Pitch competition to give students the opportunity to learn and practice the art of pitching.
"We started Titan Fast Pitch to challenge students to effectively communicate ideas in a limited period of time — a critical skill that entrepreneurs must develop," explains Travis Lindsay, lecturer in management and manager for the Center for Entrepreneurship and the CSUF Startup Incubator​. "Students learn how to communicate their ideas to key stakeholders, such as investors, business partners and customers."
But pitching is more than just crafting an elevator speech. It trains enterprising students to cope with the unpredictability, twists and surprises that are part of the life of an entrepreneur.
Bryan Ruef, senior in computer science and co-founder of 10-8 Systems, says his life has been filled with that unpredictability since he began selling the cloud-based dispatch system built for managing emergencies in January. 
He decided to participate in the Oct. 26 competition for the chance to learn and practice adaptability and dynamism while still in school.
Crafting a Pitch
As an emergency medical technician and public safety volunteer, Ruef is passionate about his affordable dispatch system that can be used to save lives in emergencies from heart attacks to hurricane search and rescue. But that enthusiasm made it difficult to capture the concept succinctly. 
"It was a lot harder than I thought it would be to explain my business in a few sentences," he says. "I was using first responder lingo and had to translate what I'm passionate about into facts and numbers but still keep people intrigued." 
Ruef worked with his brother and co-founder, Kevin Ruef; their mentor William Van Vleet, CEO and founder of Strategy2Growth; and Lindsay to craft the pitch and its phrasing. What he didn't consider, however, was the competition setup and atmosphere.
The "bullpen round" of Titan Fast Pitch involved giving a 60-second pitch to as many judges as possible in an hour. Students were lined up for every judge, which meant making a split-second decision on which line to jump into and waiting anxiously with nervous contestants nearby. 
Bryan Ruef, senior in computer science, talks about his company, 10-8 Systems, and competing in Titan Fast Pitch.
"The first thing I realized was that I had to speak very loudly to be heard over the noise of the crowd. My first pitch was rough," Ruef admits. "I was checking out the competition and had to force myself to focus instead of listening to the others pitching around me."
He found pitching more dynamic than expected, requiring him to read the judge's reaction, think on his feet and make quick adjustments. He was also surprised that some challenged his numbers and questioned their authenticity in the middle of the pitch.
Pitch Perfect
Ruef made it to the "lightning round" where he pitched to another panel of judges and the audience, and answered questions about his business. He had prepared answers to questions he and his brother thought were most likely to be asked, and he had studied the judges' backgrounds.
For this part of the competition, "I had an advantage," he shares. "I've done it all — programmed the system, talked to customers, analyzed our financials, worked as an EMT — so I knew all aspects of the business."
Ruef took second place in the competition — another twist after winning the CSUF Startup Competition last spring. While he wanted a different result, he says the experience was definitely worthwhile, giving him an opportunity to network, practice and gain insight on how to nail down the elusive perfect pitch.
Visit the Center for Entrepreneurship website for more information about entrepreneurship at Cal State Fullerton.