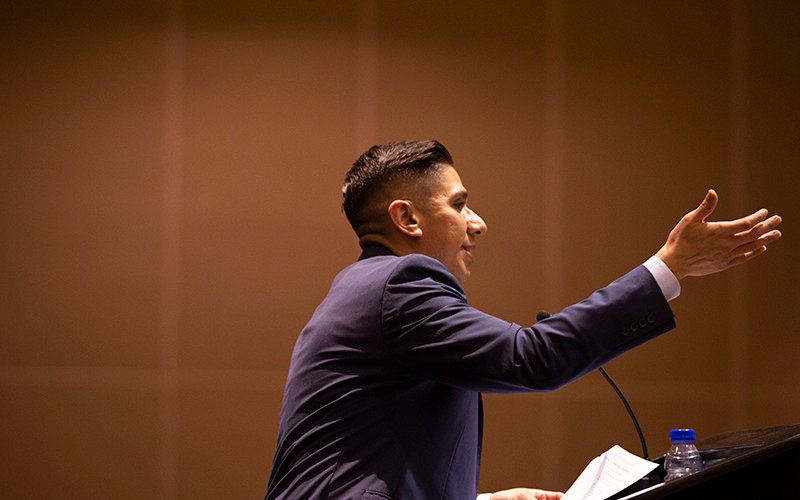 Cal State Fullerton's Harry Le Grande and Vincent Vigil each received accolades for their exemplary leadership in student affairs from NASPA Region VI. 
Le Grande is the recipient of the 2019 Scott Goodnight Award for Outstanding Performance as a Dean/Vice President. Vigil, associate vice president for student affairs, was honored with the Mid-Level Student Affairs Professional Award. Both were presented with their awards at the November NASPA Region VI conference in Portland, Oregon.
Le Grande stepped into the role of CSUF's vice president for student affairs in August and leads the division that supports the academic, personal and professional development of students. He provides leadership to more than 400 employees across areas such as student engagement, student retention, student transitions, Associated Students Inc., Title IX and intercollegiate athletics.
The Scott Goodnight Award is given to individuals who have shown exemplary leadership and demonstrated sustained professional achievement in student affairs work. Le Grande earned the award after two terms as interim vice president for student affairs at Cal State San Bernardino and Sonoma State University. Le Grande retired from UC Berkeley after nearly 35 years, where he rose through the ranks, and in later years, served as vice chancellor for student affairs. He also has received the Pillar of the Profession Award and Distinguished Service to the Profession Award from NASPA.
Vigil, who started at CSUF in 2015, was promoted to his current role in July. He previously served as director of Student Life and Leadership and interim director for Diversity Initiatives and Resource Centers. Mid-level professionals are some of the most influential forces on campus, according to NASPA. In pivotal positions, they serve students directly, while promoting the learning, growth and development of their staff. Recipients must demonstrate outstanding commitment to the profession and contribute to programs that address the needs of students.
Vigil leads multiple areas of student affairs, which includes counseling and psychological services, dean of students, Disability Support Services, the Student Health and Counseling Center and Title IX. He also has a hand in such programs as Care Services, TitanWell and Tuffy's Basic Needs Services. Vigil earned a doctorate in higher education and a master's degree in student affairs from USC and a bachelor's degree in business administration from Whittier College.
"It is an honor to be recognized by my student affairs colleagues. I am thankful to my mentors who have supported me throughout my career journey. I also feel privileged to work at Cal State Fullerton and assist students who are like me when I was in college — first-generation, queer, Latinx and low-income," Vigil said.