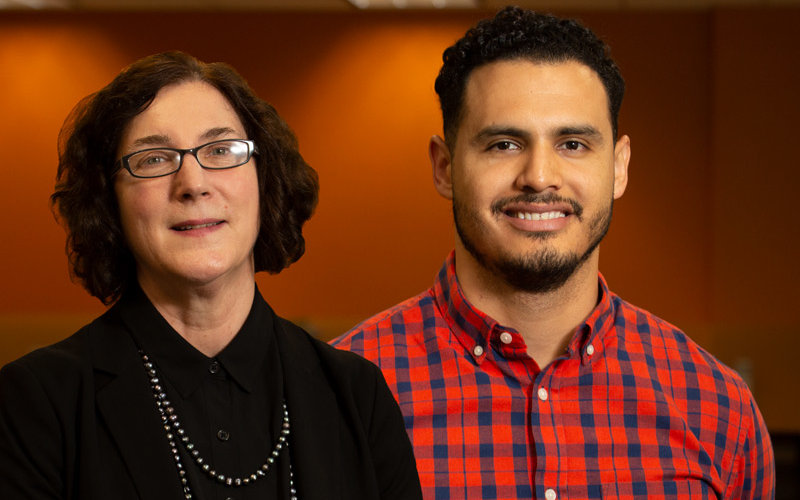 Long a leader in helping first-generation, underrepresented undergraduates thrive and succeed, Cal State Fullerton begins a new program this fall to offer that same type of support and guidance to graduate students: Project upGRADS, or Utilizing and Promoting Graduate Resources and Access for Disadvantaged Students.
The new program continues and expands the university's efforts to target Hispanic graduate students to support and assist them in graduating. The program is underwritten by a new five-year U.S. Department of Education grant expected to total nearly $3 million. First-year funding of $598,675 is kicking off the effort.
"Project upGRADS will address the continuing disparities in academic achievement — enrollment, retention and graduation — compared with the general population," said Katherine Powers, director of the School of Music and grant recipient. "We also will seek to increase engagement among Hispanic graduate students, a key component to their academic success."
Cal State Fullerton serves almost 40,000 students with 41 percent identifying Hispanic. Of the 4,593 graduate students on campus, 28 percent identify as Hispanic.
To increase enrollment of Hispanic graduate students, Project upGRADS will be developing:
A summer graduate studies readiness certificate program that teaches not only academics but soft skills;
Proactive advising for applicants and new graduate students;
Workshops on financial literacy, professional development and career goals; and
Enhanced adviser training.
 
To improve retention and graduation rates, it is preparing to support peer support groups, and offer expanded online resources.
And to develop educational engagement, upGRADS will establish expanded Career Center services for grad students, as well as a fellowship program that will award 48 $1,000 scholarships annually and include faculty mentoring and research or professional development opportunities. The first fellowships will be awarded in December.
"We're looking at what has helped underrepresented (undergraduate) students succeed on campus and utilizing it for our graduate population," explains Powers. "We're reaching across university divisions and connecting faculty members — all serving and working together in support of student success."
Project upGRADS Director Luis Molina agrees. The 2015 MBA alumnus achieved his degree with the support of an earlier university program, EPOCHS (Enhancing Postbaccalaureate Opportunities at Cal State Fullerton for Hispanic Students). He was in his second year of graduate school when he fell into academic probation. He discovered the Office of Graduate Studies and met with the then project manager of EPOCHS.
"It was that relationship with someone who looked like me and talked like me," that helped Molina regain focus on his academic studies and take advantage of the services the program offered. "It meant a lot. The probation really was a blessing in disguise."
Molina returned to campus a year later as advisement manager for SOAR (Strengthening Opportunities, Access and Resources) and stayed.
"I think these programs are very much needed. They target students who struggle with not knowing what they can do, where they can turn to for guidance and assistance," he stressed. "Sometimes it's cultural. We're taught to be strong and to persevere, to manage the challenges. 
"With SOAR and now upGRADS, we let them know that we have firsthand knowledge of what they are going through," he added. "We don't shelter these students, but lead them to where they can go to get the help that they need."