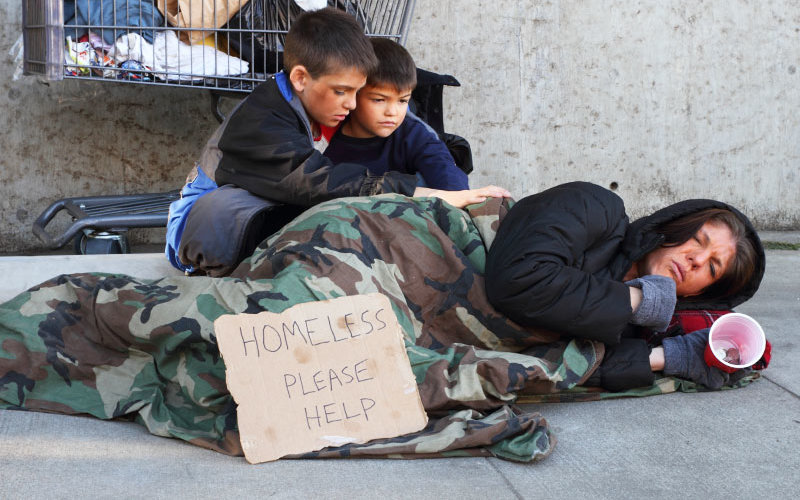 In towns across the country, the signs of homelessness and housing insecurity are seen everywhere: from tents under overpasses and outside of buildings to lines outside community-run shelters.
What may surprise many, however, are the growing numbers of families with children impacted by homelessness.
"We are living in an affordable housing crisis that has lifelong consequences for children," says Tabashir Nobari, a Cal State Fullerton assistant professor of public health.
Nobari has served as an assistant researcher in UCLA's Fielding School of Public Health. She completed postdoctoral work with PHFE WIC, the largest local agency in the nation for the Special Supplemental Nutrition Program for Women, Infants and Children (WIC), a federal nutrition assistance program for low-income pregnant and breastfeeding mothers and children up to the age of 5. 
One of Nobari's recent research briefs on the issue, "Housing Insecurity and Homelessness Among WIC Participants in Los Angeles," was published in July. It is based on data from the Los Angeles County WIC Survey, involving a random sample of approximately 5,500 WIC-participating children and conducted every three years. Half of all children under 5 in Los Angeles County participate in WIC and Nobari found that a third were housing insecure and 11 percent had a parent who had been homeless or at risk for homelessness.
"Los Angeles is home to one of the highest rates of homelessness in the nation and the Los Angeles-Long Beach-Anaheim metro area is home to the highest rates of unaffordable housing," the researcher noted. The result is that many families are living in rentals, paying a high percentage of their income on housing, moving frequently and doubling up with other family members, such as a grandparent, to minimize the cost of housing, she noted.
"A negative event, such as a death of one of the family members, divorce or loss of a job can send the housing insecure into homelessness," added Nobari.
Nobari also found that these children are more likely to experience adverse childhood experiences, such as household dysfunction. Children in such situations tend to have more developmental, behavioral and health issues, not just in childhood but also later on as adults, she explained. "Such issues can affect the children's own future socioeconomic mobility."
Further, "when a family is housing insecure or homeless, it needs to make the hard choice whether to spend money on rent or on food. Families often choose rent and end up food insecure," said Nobari, who also studies childhood obesity. "Children who live in households where there is a severe housing cost burden are significantly more likely to be obese compared to children who are not."
"We need more affordable housing and support services for families who are homeless or at risk of becoming homeless," she said. "We also need research to understand how this housing insecurity affects young children. Without this kind of research, we won't have effective tools to address the consequences for these children and their families."