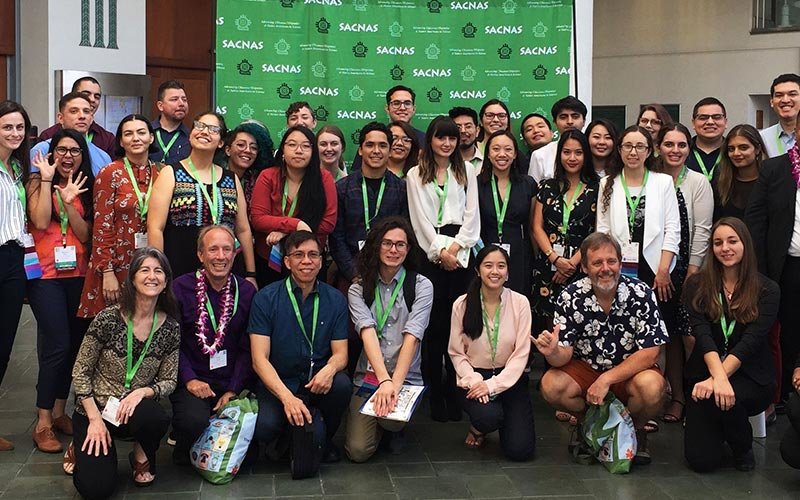 For their projects on such topics as new treatments for the West Nile virus to whether microplastics disrupt the marine food chain, four Cal State Fullerton student researchers won outstanding research presentation awards at the Society for the Advancement of Chicanos/Hispanics and Native Americans in Science  — The National Diversity in STEM Conference.
CSUF students from multiple disciplines attended the recent conference in Honolulu, including scholars from the Southern California Ecosystems Research Program (SCERP) and Maximizing Access to Research Careers (MARC) program. In the oral and poster presentations, they competed with students from universities across the country, including Harvard, Purdue, Berkeley, Vanderbilt, USC, and CSU and UC campuses.
The research and presentation awards recognize the next generation of underrepresented scientists and encourage students to continue pursuing the STEM fields.
Award recipients are:
Biology graduate student Ariel Heyman, life sciences, ecology and evolutionary biology category, for her oral presentation on the impacts of sea level rise on Pelvetiopsis californica, a fleshy brown alga that lives in the rocky intertidal zone.
Heyman's faculty mentor is Jennifer Burnaford, associate professor of biological science.
Biochemistry major and MARC scholar Shaina Nguyen, chemistry category, for her research to develop new therapeutics to cure people infected with the West Nile virus. The President's Scholar works under the mentorship of Nicholas Salzameda, associate professor of chemistry and biochemistry.
Psychology major and MARC scholar Gerardo Sandoval, psychology category, for his study on using powerful molecular tools created for zebrafish to provide insights into learning, memory and neuropsychiatric disorders. His faculty mentor is Adam Roberts, assistant professor of psychology.
Biological science major and SCERP scholar Mayra Silva, life sciences-marine sciences category, for a group research project from the summer course on the movement of microplastics in the marine food chain in brine shrimp and moon jellies. Burnaford and William "Bill" Hoese, professor of biological science, direct the SCERP program.