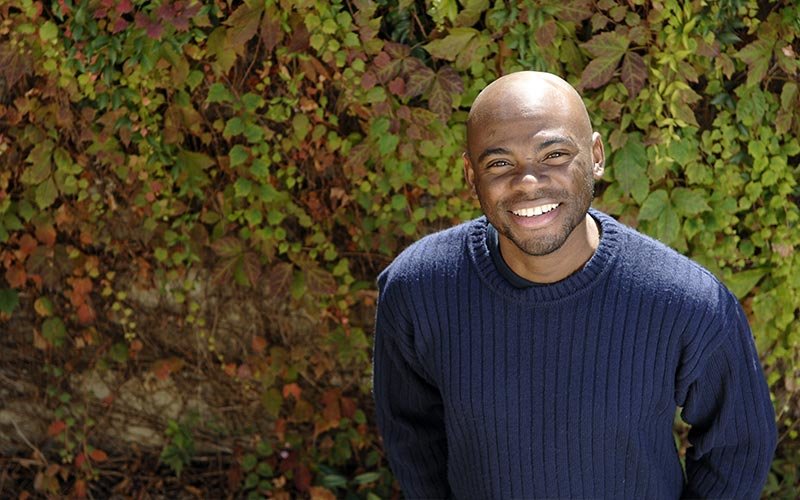 Edward L. Robinson's love of books and education led him to travel the world. Robinson, lecturer in African American studies, has taught in Thailand and China and has presented his research at conferences in Germany, France, Canada and across the United States.
But growing up in a small town in South Georgia wasn't always easy as a gay black man. Robinson will share his story, "Letter to the Heart of a Little Gay Black Boy on the Eve of His 50th Birthday," as part of Cal State Fullerton's Tuesday, Feb. 4, Black History Month celebration. Black History Month is commemorated Feb. 1-29. 
The program, themed "Love Letters to the Black Community: A Night of Affirmation and Support," features presentations by campus members who will share their own "love letter." Presenters include Robinson; CSUF President Fram Virjee; Mei-Ling Malone, lecturer in African American studies; Bobbie Porter, assistant vice president for diversity, inclusion and equity programs; Torrell Foree, coordinator for the African American Resource Center; and students.
The 5:30-7:30 p.m. event in Titan Student Union Portola Pavilion is hosted by Virjee and his wife, Julie. The program also will feature a jazz band, an activity where attendees can write their own love letter and food dishes with historical or cultural relevance to the black communities in the U.S., Africa and Caribbean. 
"I hope that our self-reflection will inspire students, friends and colleagues to keep moving forward through the challenges our communities, country and university faces," said Robinson, who earned a doctorate in cultural studies from Claremont Graduate University. "I celebrate black history all year long. Black Americans continue to contribute to the world every day."