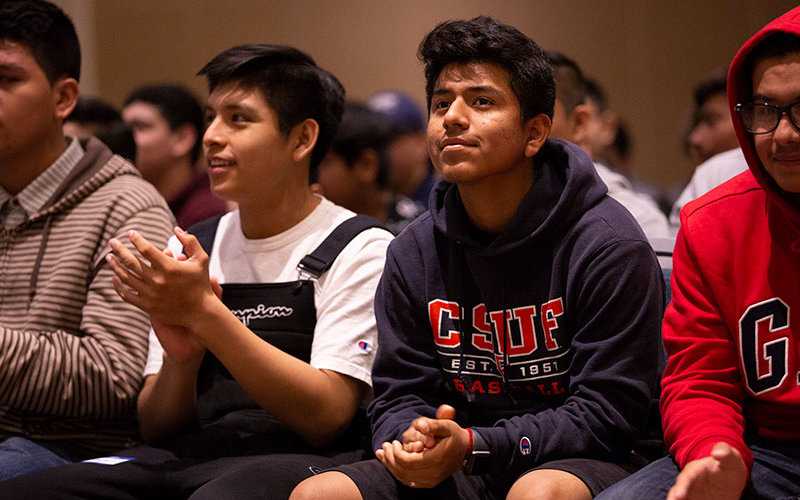 Alumnus Miguel Baltazar, who works at DreamWorks Animation Television as a storyboard revisionist for Netflix's "Boss Baby: Back in Business," told about 300 male high school students of color that one of his biggest challenges in college was feeling like he didn't belong.
Baltazar '18 (B.F.A. art-illustration), whose parents are Mexican immigrants, relayed his struggles as a first-generation college student, but pointed out that he found his way by becoming involved in campus activities and as an English and math tutor.
"It was a mental struggle going into college. I finally realized that I had put in the work and effort to get to college so I belonged here," he said. "It doesn't matter the color of your skin, what matters is your work ethic. To those who don't believe in you, prove them wrong, and prove to yourself that you are able to accomplish your goals."
The students — mostly African American and Latino boys ages 14-17 in 9th to 11th grades — spent the day at Cal State Fullerton's fourth annual Male Youth Empowerment Conference, listening to successful alumni and learning from campus and community leaders that college is possible, including with the help of financial aid programs.
Watch this video about a past Male Youth Empowerment Conference. Credit: CSUF alumnus Tyree Vance/Male Success Initiative-Fullerton
"The goal of the conference is to provide young males of color with insight into college life, and to encourage them to prepare during high school for the next step — college," said Adriana Badillo, director for Educational Partnerships.
Cal State Fullerton's Educational Partnerships and Male Success Initiative-Fullerton presented "The Power of Your Potential: Highlighting the Paths for Young Men of Color in STEM + Arts Fields," with the sponsorship from Orange County United Way. The Jan. 17 conference brought students from eight high schools in Orange County and the region to campus to show them that at CSUF, they can thrive, succeed and reach the fullness of their potential, said Vincent T. Harris, director of the Male Success Initiative-Fullerton.
CSUF President Fram Virjee welcomed students, sharing that nearly 60% of CSUF students are first-generation university graduates.
"Students, I am here to welcome you into the Titan Family; I hope you will think about coming here," Virjee said. "I am here to tell you something that your teachers know, your parents know … You not only belong in college, you belong anywhere that you want to be; to do the things in life that you dream you can do. You are not an imposter on a college campus; you belong on this campus, and this campus is here to help you create your future."
Conference sessions and speakers focused on the college experience, potential careers, community engagement, and changing the narrative to one of opportunity and potential. The daylong program featured a "STEM+The Arts" panel discussion with Baltazar; Carl Villalobos, a civil engineering major who graduates this month, and landed a job as an engineer at Los Angeles Water and Power; computer science major Jason Jose, and Jamil A. O'Quinn, a filmmaker, performer and screenwriter.
Students took campus tours and attended workshops on such topics as "Breaking Barriers: Building a Culture of Success for Men of Color," as well as careers in teaching, the arts and science, technology, engineering and mathematics (STEM) fields.
Jimmy Bravo, higher education coordinator at Godinez Fundamental High School in Santa Ana, brought 27 students to the conference. The message he hoped his students learned is that "higher education is for everyone, especially them."