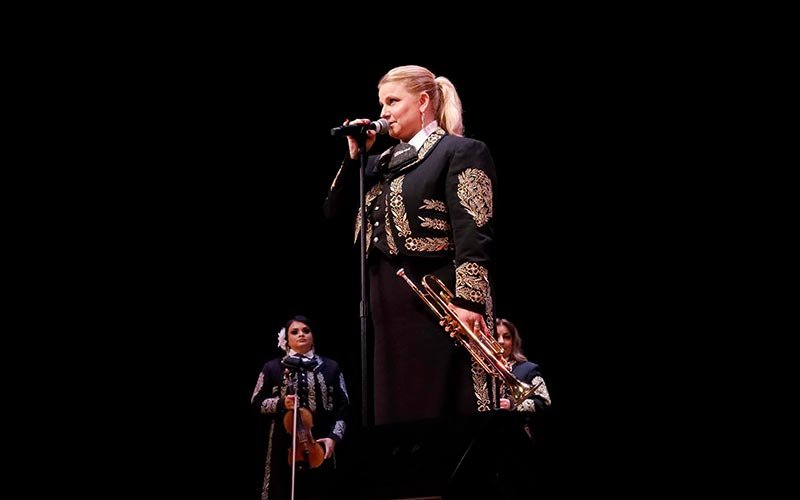 An accomplished trumpet player and founder of an award-winning mariachi ensemble, Cal State Fullerton alumna Cindy Shea is up for her third Grammy Award.
Mariachi Divas de Cindy Shea's "20 Aniversario" is nominated for Best Regional Mexican Music Album. The winner will be announced at the 62nd annual Grammy Awards Jan. 26 at the Staples Center.
Shea's group made history as the first all-female mariachi band ever to be nominated for a Grammy Award in 2009 — and won for Best Regional Mexican Music Album. Mariachi Divas went on to win a second Grammy Award in the same category in 2014. The group has been nominated 11 times, for both American and Latin Grammy awards.
Beyond collecting trophies, Mariachi Divas has achieved fame as the official mariachi band of the Disneyland Resort. Shea has also launched her own corporation, record label, music publishing company and studio.
Twenty Years in the Making
While it's not Shea's first trip to the Grammys, this year's nomination is particularly special to her because the album is a celebration of 20 years of work (she founded Mariachi Divas in 1999).
"It feels amazing," she shares. "To include Mariachi Divas from the past all the way to present in making this reunion album was just such a great time."
Other highlights for Shea include it being the first album recorded in her new home studio, a song called "Así Es Una Mujer" ("This Is a Woman") co-written by Grammy Award-winning composer Edgar Cortazar and her son's debut as part of the recording team.
"I feel like every door that was shut on me through my lifetime in this difficult career choice was worth it," she says.
No Backup Plan
Shea knew she wanted to be a professional musician early on, learning to play the trumpet at age 8. She continued her music education at Cal State Fullerton and later studied with Latin jazz icon Arturo Sandoval.
"I feel lucky and blessed that Cal State Fullerton was the base of my music education," says Shea. "To this day, I've never met better educators. They are incredible."
She recalls "practicing all the time" and being surrounded by people who were "serious about music."
"Going to CSUF was a big influence for me. Everybody was just very motivated," says Shea. "The best memories I have are the jam sessions. Music was our fun."
Shea is quick to mention that she's not the only alum to achieve success in her career.
"I see a lot of success in everybody when I visit with alumni," she says. "They're phenomenal musicians, educators, writers, composers, arrangers, conductors. Everything that they learned from college, they just became the best of the best."
Her advice for aspiring musicians: Get a solid education. Compete only with yourself. And don't have a backup plan.
"People used to ask me all the time, 'What do you have as a backup plan?'" she says. "I don't believe in backup plans. I believe in following through and going for it.
"I can't imagine doing anything else but making music as a living."