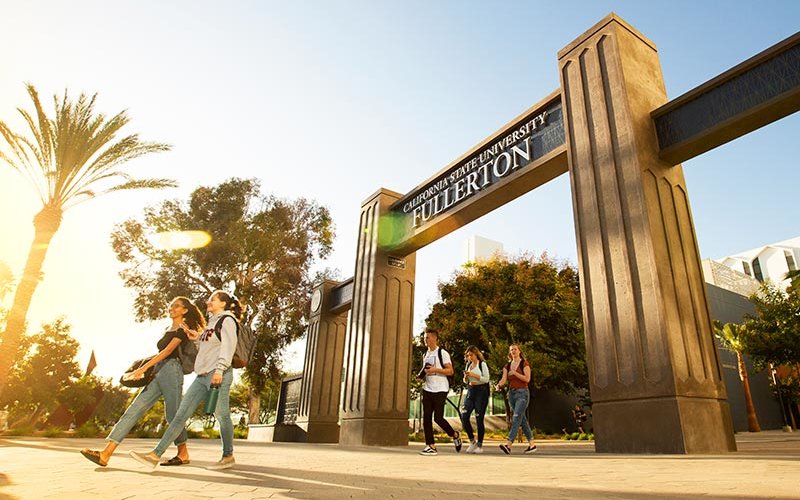 Cal State Fullerton kicks off its spring semester with classes beginning Saturday, Jan. 18, (although most students will be returning Tuesday, Jan. 21). The campus will be closed Monday, Jan. 20, in observation of the Martin Luther King, Jr. holiday.
Opening-day enrollment figures indicate 39,030 registered students.
Activities and Upcoming Events
From counseling and psychological services, to learning about careers, financial aid, food, housing and parking, students can connect with campus departments and offices at the Titan Resource Fair Wednesday, Jan. 22, and Thursday, Jan. 23. The two-day event, held from 11 a.m. to 2 p.m. along the walkway between Titan Student Union and Pollak Library, allows on-campus departments to share the resources they provide with students.
CSUF's Diversity Initiatives and Resource Centers is coordinating an on-campus day of service Wednesday, Jan. 22, for all members of the university community to contribute. The event is held in observance of the designation of Martin Luther King Jr. Day (Jan. 20) as a national day of service to encourage all Americans to volunteer to improve their communities.
Students, staff and faculty members are encouraged to stop by Becker Amphitheater between 10 a.m. and 2 p.m. to volunteer their time to assemble care packages and "Welcome Home" baskets to benefit Mercy House in Santa Ana. Mercy House is dedicated to ending homelessness by providing housing opportunities, programs and supportive services (mercyhouse.net). All supplies will be provided — campus volunteers just need to arrive ready to assemble the packages.
Volunteers also will have the opportunity to commit to other community service events planned by organizations in Orange and Los Angeles counties throughout the month of January.
During the 2020 Discoverfest Wednesday, Jan. 29, and Thursday, Jan. 30, students can learn about the range of clubs and organizations offered. More than 200 clubs and organizations — fraternities and sororities to cultural organizations and more — will be on hand from 11 a.m. to 2 p.m. each day to showcase opportunities for student engagement on campus. The event, held in the Quad and along the walkway between Titan Student Union and Pollak Library, is sponsored by Student Life and Leadership. 
Campus Renovations and Improvements 
Work is progressing on the full renovation of the fourth through sixth floors of Pollak Library South, set to reopen this year. While providing more student amenities and study space on the fourth and fifth floors, the project also carves out a new home for the Lawrence de Graaf Center for Oral and Public History. The project features several fire-life-safety upgrades for the building, including the installation of 70 smoke-ventilation windows on the second through sixth floors. Outdoors, the Titan Quad is now complete and open for gatherings and events. 
Rising higher each day adjacent to the 57 Freeway, the Eastside 2 Parking Structure is on target to open this summer. The six-story structure will feature 1,900 spaces, plus a solar canopy, energy-efficient LED lighting, elevators and a staircase. 
Along with numerous campus-wide repairs and maintenance projects, our Facilities team is completing several upgrades this winter. These include better pedestrian lighting for the student housing complex, a new tutoring center for Supplemental Instruction, upgrades to the Nursing Simulation Lab in the Kinesiology and Health Science building, and fully renovated space for the Information Technology division, Admissions and Records Service Center and Athletics Academic Services at Langsdorf Hall.
Parking Updates
Travel together at CSUF! Parking & Transportation Services provides a variety of alternative commute options, as well as mitigation efforts to reduce congestion on campus.
Share the ride with Waze Carpool
Join the CSUF Titan Carpoolers group to form a carpool and save time and money on your commute! Reserved carpool parking is available in Lot D from 7 to 10 a.m., Monday through Thursday. 
Zipcar
Conveniently located cars are available on campus to rent by the hour or by the day with all gas and insurance included. Zipcars are located in the Resident Hall Lot and College Park. Sign up at zipcar.com/CSUF.
OCTA Bus & Metrolink
Subsidized student and employee bus passes are available at the Parking Office. Students receive 25% off Metrolink train fare, and employees may receive a rail reimbursement.
For more information on the alternative commuting options like joining a carpool or vanpool, or taking the bus or train, please visit the parking website, or contact Commuter Services at cservices@fullerton.edu. Eligible faculty and staff can earn commuter rewards for participating in the alternative commute options. 
Off-Site Parking & Shuttle Service
Park at EvFree Church in Fullerton, located at 2801 Brea Blvd., and take the shuttle to campus Monday through Thursday from 7:30 a.m. to 7:30 p.m. Off-site permits are only $85 for the semester. Both faculty/staff and student permits are valid at the off-site lot. 
Assisted Parking
Utilize the free assisted parking, Monday through Thursday in Lots A, Lot A South (adjacent to the Children's Center — accessible off of West Campus Drive), and Titan Hall. 
Eastside North Parking Structure
Construction on the new parking structure is underway and it is scheduled to open in Fall 2020. For more information on the construction and permit fees, please visit http://parking.fullerton.edu/moreparking.
Questions?
Any questions? Contact Parking & Transportation Services at (657) 278-3082 or email parking@fullerton.edu. More information can be found on the parking website and through their Facebook, Twitter, and Instagram.