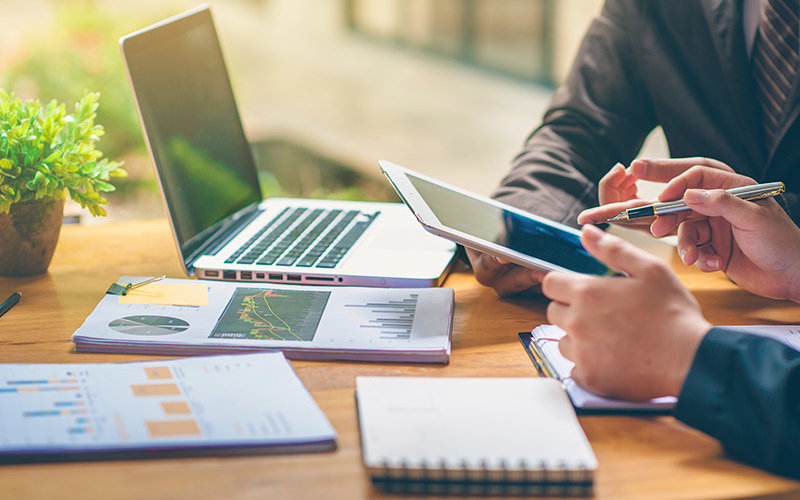 Paul Treinen '90 (B.A. business administration-accounting), managing partner of White Nelson Diehl Evans LLP, recently noticed that many of his professional employees identified themselves as Cal State Fullerton graduates. That led him to wonder: Exactly how many of the accountants on staff are Titan alumni?
"I conducted an internal survey and discovered about 60% of our accountants were CSUF graduates," he said. "We've had a long tradition of hiring Fullerton grads, but I was surprised at how high the percentage was."
Fram Virjee, president of the university, wasn't surprised. "I think that percentage is about right," he said. "When I speak with CEOs in Orange County, I'm often told, 'About half of our workforce consists of Titans. I'll take a Titan any day.'"
Treinen, who serves as vice chair of the audit committee of CSUF's Philanthropic Foundation board, decided to sponsor a lunch so employees could get together and talk about their Titan experience. Virjee, as well as faculty members from the Mihaylo College of Business and Economics, also connected with the alumni.
Karina Alvarez '19 (B.A. business administration-accounting) shared how the university prepared her for her role as a tax associate. She credited two student groups on campus for their support: the Accounting Society and Association of Latino Professionals For America.
"These groups helped me grow professionally," she said. "Especially with ALPFA, I was meeting people whose backgrounds were similar to mine. Many, like me, were the first in their families to go to college."
Alvarez still stays in touch with the ALPFA group to reach out to the next generation of students.
Jesus Barrios '17 (B.A. business administration-accounting) started at White Nelson Diehl Evans as an intern. Today he is an accounting business administrator.
"The outstanding faculty makes the whole college experience great," he said. "They not only prepare you for a career, but for life. I took management classes that helped me focus on what I wanted to get out of my life and career."
Audit Supervisor Lauren Moreno '14 (B.A. business administration-accounting), also started her career with an internship. "Everything I learned at Cal State Fullerton is directly applicable to what I do now," she said.
Moreno remembers her first classes were tough. "They were challenging courses but the more I learned, the more it made sense," she said. "They provided a good foundation for my career."
Farhan Kolsy '16 (B.A. business administration-accounting), a senior tax associate, believes his education helped him ace his CPA exam. Starting as an intern, he was hired at White Nelson Diehl Evans, straight out of college. "The professors trained me well and groups like the Accounting Society helped me learn how to network, build a resume and prepare for an interview."
Virjee noted that Orange County wouldn't be what it is today … or can be … without Cal State Fullerton. "We need Orange County and the county needs us," he said. "With almost 300,000 alumni, many of whom stay in Orange County and Southern California, the university reflects the community and prepares students to be workforce ready."