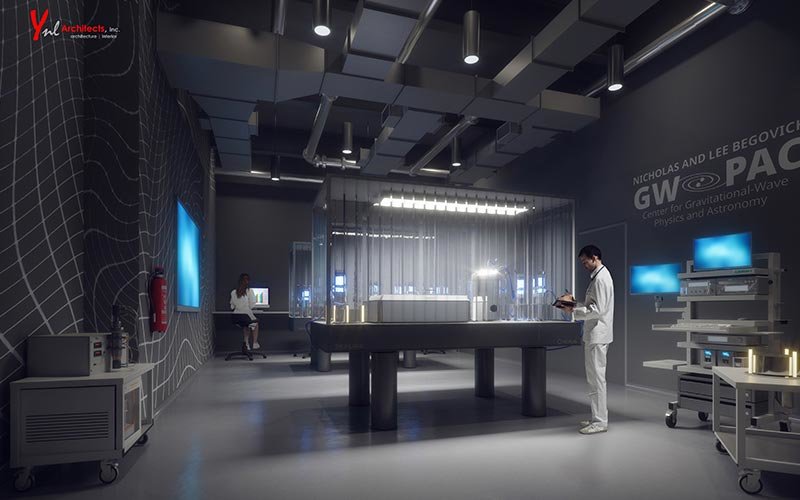 When Cal State Fullerton physicists and their students made key contributions to the first discovery of gravitational waves, announced in early 2016, university donor Nicholas Begovich became fascinated with the cataclysmic event in the distant universe.
This unprecedented collision of two black holes to produce gravitational waves not only opened a new window on the cosmos, it brought together physicists Joshua Smith and Geoffrey Lovelace, and Begovich, a retired engineering executive. 
An insatiable learner, the 98-year-old Begovich wanted to know more about the global effort to detect gravitational waves  — ripples in the fabric of spacetime — using the advanced Laser Interferometer Gravitational-wave Observatory, known as LIGO. This research is carried out by the LIGO Scientific Collaboration, a group of more than 1,000 scientists from around the world and the United States — including Cal State Fullerton.
"When Nick first visited the Gravitational-Wave Physics and Astronomy Center, he began asking questions about gravitational waves," said Smith, professor of physics and Dan Black Director of Gravitational-Wave Physics and Astronomy. "Nick's curiosity and insight have truly been an inspiration to me, Geoffrey and our team ever since that first day."
The trio has spent time together to engage in science-focused conversations, with Smith and Lovelace sharing their knowledge with Begovich, who holds three degrees from Caltech, including a doctorate. Begovich purchased and reviewed books on gravitational physics to bring himself up to speed on the quickly changing field and the computational challenges of computing black hole mergers.
Through this unlikely and earnest friendship, Begovich, and his wife, Lee, a former first grade teacher, turned their philanthropy to Cal State Fullerton's groundbreaking gravitational-wave research. The Fullerton couple already has an art gallery and a box seat in Clayes Performing Arts Center that bears their name. In recognition of their latest $10 million gift to the university, the science center has been renamed the Nicholas and Lee Begovich Center for Gravitational-Wave Physics and Astronomy.
With their $10 million gift commitment to support gravitational-wave, engineering and computer science research, the couple's overall donations to the university total nearly $13 million. A collector of European sports cars, Begovich is donating 14 cars in his collection — valued at $10 million. The Begoviches' bequest is the lead gift for Cal State Fullerton's $200 million, five-year comprehensive philanthropic campaign set to launch March 12.  
"I hope I'm setting an example," says Nicholas Begovich of the couple's generous gift. "To supply the funds to advance our understanding of the world — that is amazing joy … real joy."
Over the past 50 years, the pair has primarily supported the arts, as well as Pollak Library and the President's Scholars Endowment Fund. Following a $1 million gift to the Art Department in 2010, the Main Art Gallery was renamed the Nicholas and Lee Begovich Gallery in their honor. The gift provides support for art exhibitions, artists-in-residence and scholarships.
During California's golden age of aerospace, Begovich, a retired vice president of the ground systems group for Hughes Aircraft, made major contributions as an engineer, including groundbreaking work that led to advances in air defense systems. Begovich's ties to the university date back to when he was tapped as a industry leader by the late Miles D. McCarthy, chairman of the then-Science, Mathematics and Engineering Division and a founding faculty member, who later served as acting president. As a technical leader, Begovich offered counsel as the new campus developed. 
Over the years, the Begoviches have been involved in the College of Engineering and Computer Science, attending student events or learning more about student projects. Begovich became fascinated with the SAE Formula and SAE Baja teams, in which students build a formula-style race car and off-road vehicle for collegiate competition. One year, he even made a trip to nearby Gorman to attend the SAE Baja race. 
"Nick is a lifelong learner. He possesses that mixture of curiosity, technical aptitude and empathy for others," said  Susamma (Susan) Barua, the college's dean. "These are all things we aspire to bring out in our students and their gift will advance innovative ideas to propel our college forward to best meet the needs of our students and region."
Lee Begovich, 91, an art historian, became involved in the arts on campus in the 1960s and is the longest serving member and a past president of the CSUF Art Alliance, which raises funds for art scholarships and installations of major sculptures on campus. For their history of giving and involvement on campus, the couple has received numerous accolades from the university, including the Vision & Visionaries Award in 2016, the highest award bestowed upon alumni or volunteers. 
With the Begoviches' astronomical gift, the Nicholas and Lee Begovich Gravitational-Wave Physics and Astronomy Center will continue to provide opportunities for student and faculty researchers to make endless contributions to the field, Smith said.
"It's been so rewarding to see the success that our students have had in gravitational-wave physics and in other science and technology careers," Smith added. "Nick and Lee's gift will greatly expand the number and magnitude of opportunities we are able to offer, and will help us make foundational contributions to designing tomorrow's gravitational-wave observatories and making new discoveries." 
To support gravitational-wave, engineering and computer science research, contact Michael Karg, senior director of development, 657-278-3348 or mkarg@fullerton.edu.