Longtime university supporters Nicholas and Lee Begovich have committed to a $10 million planned gift to Cal State Fullerton to benefit gravitational-wave, engineering and computer science faculty and student research.
The Fullerton couple's gift of Titan proportions — one of the largest such gifts in the university's history — was announced at a Feb. 29 private event, a prelude to the $200 million, seven-year comprehensive philanthropic campaign, "It Takes a Titan: The Campaign for Cal State Fullerton." The Begoviches' bequest is the lead gift for the campaign set to launch March 12.
"It's appropriate that this incredibly generous gift from Nick and Lee Begovich kicks off our first-ever philanthropic campaign. They have been a part of the Titan family for over 60 years since the university's beginning," said Cal State Fullerton President Fram Virjee. "This gift is evidence of their committed investment in our students and faculty."
Begovich, an aficionado for postwar European sports cars, is donating 14 cars — valued at $10 million — in his collection to the university. The collection includes such name plates as Pegaso, Lamborghini, Talbot-Lago, Ferrari and DeTomaso Pantera Coupe. The retired engineering executive began collecting and tinkering with foreign sports cars, many straight from the factory, in the early 1950s.
The 98-year-old Begovich recently shared his reason for giving and supporting the university and its faculty and students: "I can't tell you how happy I am about this. It completes my life."
Over the past 50 years, the Begoviches' philanthropy to the university has mostly supported the arts. Just a decade ago, they donated $1 million to the Art Department, prompting the renaming of the Main Art Gallery to the Nicholas and Lee Begovich Gallery in their honor.
In recognition of the Begoviches' latest significant gift to support gravitational-wave research, the university's academic and research center also will bear their name: the Nicholas and Lee Begovich Center for Gravitational-Wave Physics and Astronomy, known as GWPAC.
"We are incredibly honored that Nick and Lee have chosen to invest in the future of gravitational-wave science at Cal State Fullerton. Their gift will have a transformative impact on students through research, teaching and outreach," said Joshua Smith, professor of physics and Dan Black Director of Gravitational-Wave Physics and Astronomy.
"This incredible gift enables the renovation and expansion of the campus center and its capabilities, and also bolsters CSUF's role in advancing humanity's exploration of the universe," Smith added.
Smith, Geoffrey Lovelace and Jocelyn Read, both associate professors of physics, carry out their gravitational-wave research within the LIGO Scientific Collaboration, a group of more than 1,000 scientists from around the world, and the Simulating eXtreme Spacetimes Collaboration. They are joined in the center by mathematical relativist Alfonso Agnew, chair and professor of mathematics, and scores of student researchers.
Of the gift, $7 million will support faculty and student gravitational-wave research in the College of Natural Sciences and Mathematics. This includes building a state-of-the-art laboratory and upgrading computational resources to allow students and faculty to continue playing a key role in future discoveries of gravitational waves, Smith said. Working with MIT, Caltech, Syracuse University and Pennsylvania State University, Smith and his colleagues are helping to design the next-generation gravitational-wave observatory in the United States, dubbed "Cosmic Explorer."
"Nick and Lee's generosity both astounds and humbles all of us. Their gift directly impacts the lives of future student researchers who will work alongside GWPAC faculty members on cutting-edge research for the next generation of gravitational-wave science," said Marie Johnson, dean of the College of Natural Sciences and Mathematics.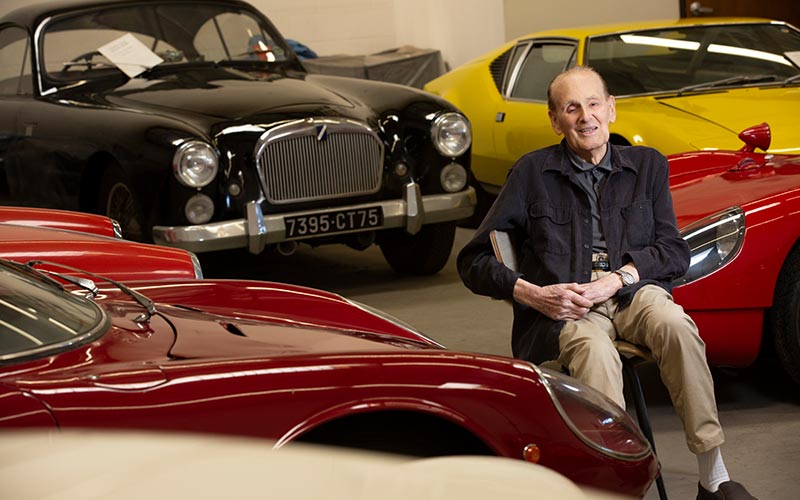 "This investment allows the university to make major contributions to the emerging field of gravitational-wave science and will equip our students to become tomorrow's leaders in science and technology."
The remaining $3 million will support interdisciplinary research, new courses and electives, student projects, early-career faculty members, and research in such areas as sustainable energy and power, in the College of Engineering and Computer Science. The gift is monumental in advancing innovative ideas that will propel the college forward, noted Susamma (Susan) Barua, the college's dean.
"The college will create a thoughtful strategy to ensure that we use Nick and Lee's support in a way that follows their wishes and carries on his legacy as an engineer and generous donor," Barua said.
The Future of Cosmic Discoveries
The Gravitational-Wave Physics and Astronomy Center serves as a hub of scientific research and education to prepare the next generation of students in this emerging field in astronomy, and to help build future observatories and make discoveries. (see related story)
"We've built a center that played a role in the first discovery of gravitational waves. Nick's gift is going to take us to a place where we can be on the ground floor of the future of gravitational waves in the United States," said Lovelace, whose research focuses on using supercomputers to simulate sources of gravitational waves.
Read, who studies the astrophysics of neutron stars, also is touched by the couple's generosity to advance their research.
"He's entrusted us with this legacy and we'll work hard to live up to that trust by building upon the work of the center to become even more impactful in the coming decades."