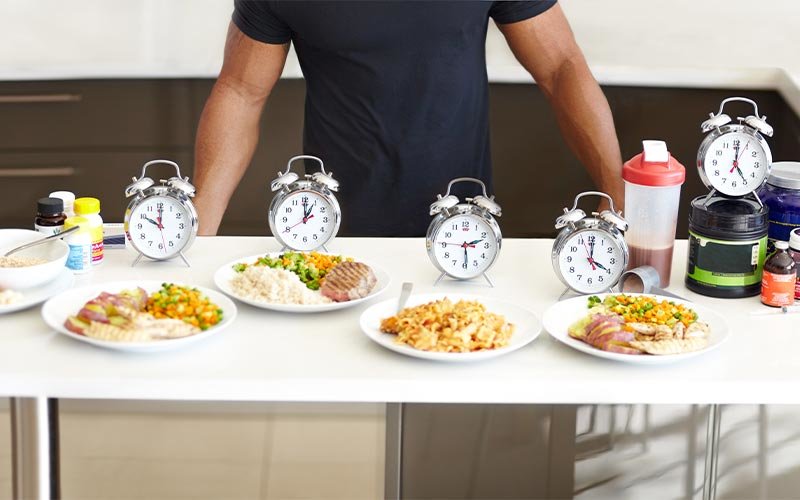 Dieting, eating healthier and losing weight have long topped people's list of New Year's resolutions. Trending in the last five years is intermittent fasting, an eating pattern that cycles between periods of eating and fasting.
While most research on intermittent fasting, or time-restricted eating, has been focused on its effects on weight loss, Andy Galpin, a Cal State Fullerton associate professor of kinesiology, is leading efforts to understand its effects on muscle mass.
His current study, "Time-Restricted Eating and Muscle Hypertrophy," examines the effects of the 16-8 Method — consuming all calories within an eight-hour period each day — on body composition and muscle mass, muscular performance, anabolic protein signaling, single muscle fiber characteristics and the gut microbiome.
"Most studies on intermittent fasting are looking at weight loss, but what if you're trying to put on muscle? This is particularly important for athletes," says Galpin, who co-directs CSUF's Center for Sport Performance. "Maybe the diet helps you lose fat, but if it makes you lose muscle, then it can be really problematic."
Taking a Holistic Approach
Working with a team of 25 scientists, dietitians and student researchers, Galpin believes this is the first clinical trial on time-restricted eating to look at multiple systems of the body.
Over the course of eight weeks, study participants (ages 18-35) will consume all calories during an eight-hour window. Muscle size will be measured via ultrasound, stool samples will be collected and participants will complete questionnaires.
"When the study is complete, here's what we're going to know: If you're going to the gym and trying to gain muscle, we're going to know whether or not time-restricted eating makes that harder, doesn't matter at all or makes it easier," says Galpin, noting that early results will be available this spring.
"We're also looking at sleep, mood and digestion: For example, maybe the diet helps people gain muscle, but people slept worse or felt hungry all day. Maybe people didn't gain muscle, but people were happier, their stomachs weren't as upset and they had better bowel movements.
"Ultimately, we're going to have a broader understanding of what happens when you change your diet — because changing your diet doesn't just affect one part of your body."
Galpin says understanding the diet's effects on muscle mass is also critical to those studying the aging process. "If you limit your ability to grow or keep your muscle, this is going to be very problematic as you age."
Weighing the Pros and Cons
For those mostly interested in intermittent fasting for weight loss, there are both upsides and downsides to the diet, says Galpin.
"I think most diets work to some extent. There are 7.5 billion people or so, and different things work for different people," he says.
"A lot of people don't feel great eating in the morning, so forcing yourself to eat food at that time may not be helpful. Similarly, many people don't like exercising on a full stomach. So if you can wake up with plenty of energy and can get a good workout in before eating, that can be an advantage."
The eating pattern can also work well for people with busy lifestyles, he says. "For people like medical students, time-restricted eating provides a huge advantage because they don't have to spend time preparing, cleaning and managing food in the morning."
As for athletes, says Galpin, "It's pretty clear that you need fuel to perform, so if you're trying to perform on a diet in which you don't have fuel, there's likely going to be consequences to that. But it really depends on questions like: Are you working out once or twice a day? Are you a strength, endurance or sport athlete? These questions matter when you're trying to figure out if time-restricted eating will work for you."