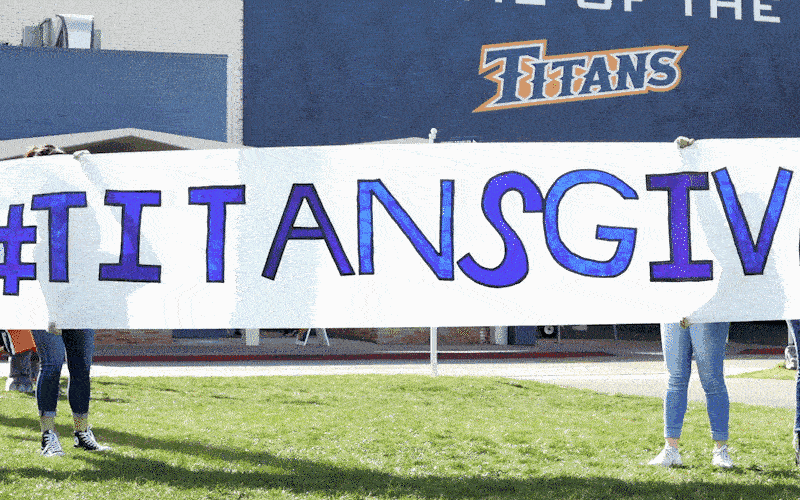 Hundreds of Titans across the globe rallied together March 12 to make #TitansGive, Cal State Fullerton's first-ever day of giving, an unqualified success. 
The day raised $239,139 in support of student success at CSUF. The 24-hour donation marathon included a wide array of giving challenges and sponsored matches, made possible by supporters of the university. 
"We are so humbled and grateful for the generosity of our Titan family," said Greg Saks, vice president for university advancement. "Even amid uncertainty, Titans continue to think of others and support the success of our campus community."
Winners of the day's Social Media Challenge and Video Share Challenge were afforded the opportunity to contribute $100 to the campus unit or program of their choice. Anna Sedory '01 (B.S. kinesiology) chose the Athletic Training Program, and Austin Nation '09, '11 (B.S., M.S. nursing), assistant professor of nursing, donated to the School of Nursing.
The Faculty/Staff Bonus Prize winner, Joyce Cross '86 (B.A. criminal justice), won the chance to give an additional $500, and she directed it to Titan Baseball.
Katherine Carter '07 (B.A. communications-advertising), shared why she was excited to participate from her home in the United Kingdom.
"My time at CSUF will stay with me forever. I had the chance to learn from truly amazing teachers and to study something that I was really passionate about," says Carter. "I also made lifelong friends and had once-in-a-lifetime experiences. Giving back to CSUF felt like the right thing to do — ensuring that future Titans will have the same opportunities."
University Advancement plans to hold #TitansGive each spring. Visit CSUF's campaign site to learn more about supporting student success on campus.