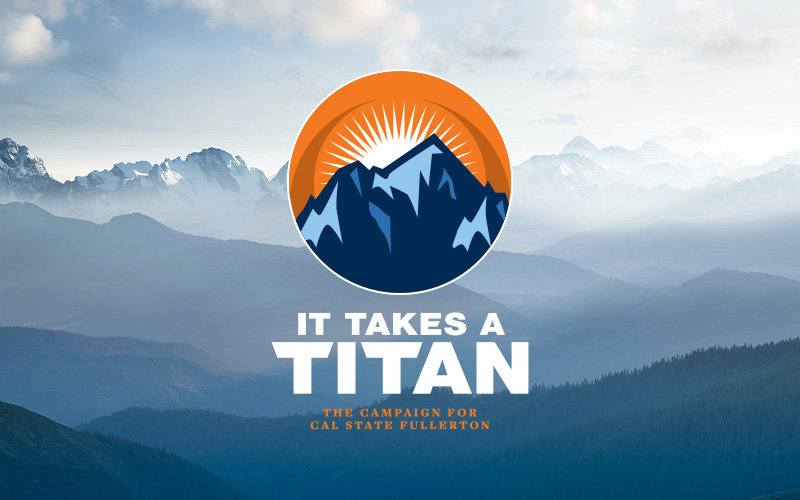 Update: The kickoff event for "It Takes a Titan" has been postponed, but the campaign is still launching online March 12.  See donation matches, challenges and other incentives specific to giving on March 12 at titansgive.fullerton.edu.
Cal State Fullerton is launching its first-ever comprehensive philanthropic campaign, "It Takes a Titan," Thursday, March 12, 9-11 a.m. in Titan Student Union Portola Pavilion. 
The campus community and public are invited to attend the kickoff event, which will feature presentations by President Fram Virjee and other campus leaders, giveaways and breakfast. 
Afterward, attendees are encouraged to visit the #TitansGive exhibits along the walkway between the Titan Student Union and Pollak Library to learn more about campaign projects and discover ways to get involved.
"We are excited about this campaign and what it offers the campus and all of Orange County," said Greg Saks, vice president for university advancement. "'It Takes a Titan' is a chance for all Titans — faculty, staff, alumni, students and our friends in the community — to come together to make a difference in the lives of students and elevate the future of Cal State Fullerton and the surrounding region."
While CSUF is a national leader in providing quality education and equitable access and opportunity to students, the campus faces the challenge of continuing to meet student needs amid declining state funding, a surging student population and aging campus infrastructure. The campaign will enable the university to continue to deliver on the promise of higher education. 
The $200 million initiative prioritizes investments in academic innovation, student empowerment, campus transformation and community enrichment. 
The lead gift for the campaign — a $10 million bequest from longtime university supporters Nicholas and Lee Begovich to benefit gravitational-wave, engineering and computer science faculty and student research — was announced at a Feb. 29 private pre-launch event.
To learn more or support the campaign, visit campaign.fullerton.edu.