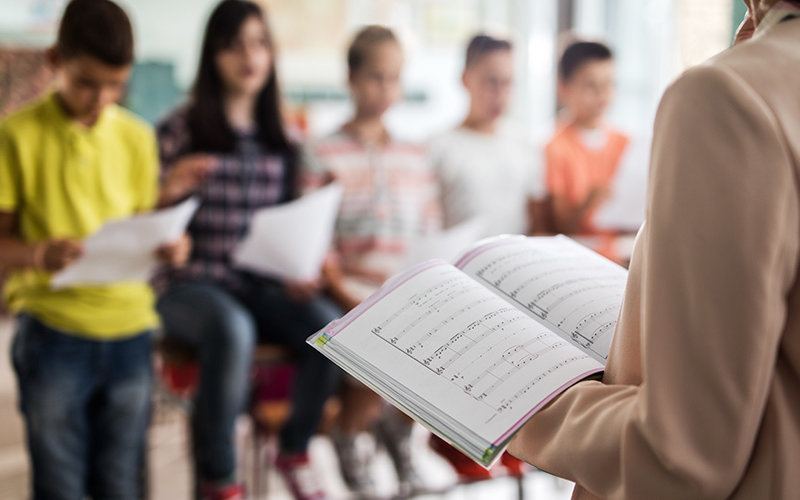 For music teachers Charles '84 and Sophia Gray '93 (both B.A. music-music education), there is nothing more rewarding than seeing former students come back and share their accomplishments — whether they are musicians, teachers or professionals outside of music.
"Teaching students how to perform and watching them realize their potential are what make teaching music great," the Grays share. "Many former students reflect upon their time in band as extremely influential in how they conduct themselves in the 'real world.'"
Charles recently retired from 33 years of teaching high school band in Riverside, California. Sophia has been teaching for 26 years, currently middle school band, percussion and color guard in Moreno Valley, California.
To support the next generation of music educators, the couple has made a planned gift to Cal State Fullerton. "We wanted to help future music educators by easing some of the worry they face in trying to pay for school," they say. "We also wanted to give back to the university that gave us both so much."
Scores of Students
Christina Cobas began playing flute in elementary school, but learned "to understand and appreciate the art of music" as a student of Charles Gray at Rubidoux High School.
"In Mr. Gray's band program there was a constant demand for excellence at every level," she says.
Gray encouraged Cobas to attend the California Music Academy, a two-week camp formerly hosted by CSUF's School of Music. "It was a defining experience for me, and solidified my interest in studying music beyond high school," says Cobas.
"The campus at Cal State Fullerton became a summer home for me throughout high school. When it was time to consider colleges, CSUF was one of my top picks."
Cobas earned her Bachelor of Music degree from CSUF in 2002 and now works as the sales and marketing manager for Wm. S. Haynes Co. flutemakers.
"The time I spent as a student at CSUF provided me with a combination of education and 'real world' experience, which established everything I needed to enter into my career shortly after graduation," she says.
Another student of Charles Gray, Phillip Ruiz, still reminisces about his days in high school band.
"The most valuable lesson I learned from Mr. Gray was honesty — to be honest with yourself, others and the music," shares Ruiz, who now is a percussion technician/percussionist for such artists as Jennifer Lopez, Tori Kelly and Andy Vargas.
"Mr. Gray is what is right in this world, and should be the blueprint for what any veteran or new teacher should aspire to be," Ruiz continues. "His passion was more about his students achieving their personal successes than his own, as evidenced by the thousands of lives he's inspired and the millions of people his students have performed for through the years."
Writing the Book on Music Education
Since the 1960s, Cal State Fullerton has produced hundreds of music educators for Southern California and beyond — with up to 24 students graduating from its music credential program each year.
"Our music credential program is highly respected in the Southern California area, and we regularly get requests from school districts to fill music teaching vacancies," says Dennis Siebenaler, associate professor of music.
The Grays say "the rigor of the classes and high expectations set" are what helped prepare them for their careers.
"Cal State Fullerton helps students to become the best educators out there," they say. "We hope that the legacy of great music educators will continue."