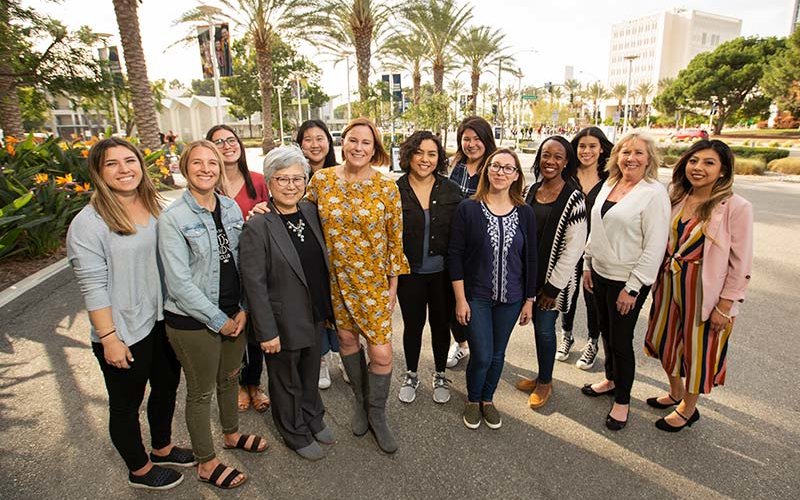 In a first-of-its kind collaboration at Cal State Fullerton and funded by a $1.25 million U.S. Department of Education grant, special education and communication sciences and disorders faculty and students are working together to address the needs of children who have intensive language and communication needs.
The five-year interdisciplinary grant, "Project Activity Based Communications" or Project ABC, is directed by Janice Myck-Wayne, professor of special education. The university has received $250,000 in first-year funding for the project to prepare students to become early childhood special education teachers and speech-language pathologists. 
The focus of the grant is on the use of augmentative and alternative communication and assistive technology to promote social and academic communication in young children ages birth to 5, Myck-Wayne said.  
"This project offers the most up-to-date training model in terms of supporting children with high intensity needs in inclusive settings," Myck-Wayne said. "It takes a more holistic model of education, rather than a clinical model, and offers students a process to understand each other's discipline."
Faculty members in the College of Education and the College of Communications collaborating on the project are Rosario Ordoñez-Jasis, chair and professor of literacy and reading education; Aja McKee, assistant professor of special education; HyeKyeung Seung, chair and professor of communication sciences and disorders; Terry Saenz, professor of communication sciences and disorders; and Lisa Erwin-Davidson, assistant professor of communication sciences and disorders.
The students in the project are training together, including taking coursework in both disciplines, attending seminars and conferences, and engaging in field experiences in classrooms and other educational and community settings.
Elizabeth Alvarez, who is working toward a career as a school speech-language pathologist, and future teacher Jovana Aguirre are among the 11 students who were selected for the project and began their studies this spring semester. 
"By being involved in this grant project, I'll learn how to provide better therapy and resources to children, as well as how to work more efficiently with teachers," said Alvarez, a graduate student in the communicative disorders program.
Likewise, Aguirre, who plans on a career as a preschool special education teacher, wants to learn more about how to support students struggling with verbal communication. "Through this project, I hope to get an understanding of techniques, devices and methods to help children communicate better — to find their voice and ways to share their thoughts, feelings, needs, wants and ideas."
Scholars will spend 2½ years in the project, receive a stipend for tuition and books and work toward attaining a master's degree in either education (special education) or communicative disorders (speech-language pathology and audiology). Those in the education program also will complete the credential program to teach early childhood special education.
Over the course of the project, a total of 30 early childhood special education students and 14 students studying speech-language pathology will be trained to meet the critical shortage of professionals in these disciplines in California and the country, Myck-Wayne pointed out.
"We're preparing educators and speech-language pathologists to be workforce-ready," she added. "These shortages impede the ability of young students with disabilities to reach their full academic, social and emotional potential, and participate in general education settings."