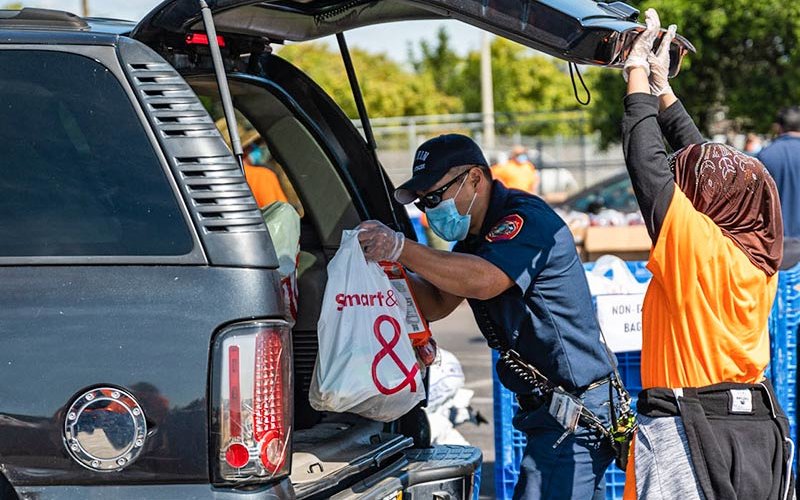 Two months into Claudia Keller's role as chief mission officer for Second Harvest Food Bank of Orange County, word of a new coronavirus began to surface.
The Cal State Fullerton alumna now finds herself helping to lead one of the largest efforts in the county to keep food insecure families fed through a pandemic.
"Never did I think that I would be learning emergency crisis relief this soon in my tenure at Second Harvest," says Keller '17 (M.P.A.), who manages the organization's fundraising, advocacy and government affairs efforts.
One of two major food banks in Orange County, Second Harvest quickly recognized what the COVID-19 situation could mean: a sharp reduction in the 26,000 volunteers and staff who sort, pack and inspect donations in its distribution center, as well as increased demand from its 312 programs and partners as schools closed and companies laid off employees.
Second Harvest jumped into action, investing in three initial truckloads of food, gloves and other hygiene supplies — a decision that put them "ahead of the curve" before panic buying began depleting store shelves.
It was one of the first organizations to tell employees to stay home, without being docked paid time off, if they had any symptoms of sickness. Additionally, Second Harvest reached out to its corporate and individual donors, explaining what was happening and exactly what was needed.
So when older adults and those with preexisting conditions were asked to isolate, Disneyland closed, the NBA shut down, schools moved to online learning, employees were furloughed or asked to work from home and restaurants closed — Second Harvest had a head start.
Getting Food to the Community
Every day Second Harvest team members have a 3 p.m. huddle. They get an update on what is happening nationally, in California and in Orange County: the number of COVID-19 cases, the number of deaths, where it's spreading, what the curve looks like. Then they talk about what the next 48 hours will look like.
"Those huddles have really become a comfort to our team," shares Keller. "Everything is so unpredictable right now, but we know that at three o'clock, we're all going to meet and bring up the issues we need to talk about."
While Second Harvest traditionally operates as a distribution center, supplying the county's food pantries, the organization quickly shifted its business model.
The types of food Second Harvest stocked began to change — moving from fresh produce such as lettuce to more shelf stable foods such as beans, rice, pasta, peanut butter, potatoes and oranges. Instead of distributing food to the pantries, many of which have closed, Second Harvest began filling 15″x10″x10″ boxes with 25 pounds of food and asking volunteers to deliver them to senior centers and partner programs.
Then Second Harvest made a bold move: The organization raised $1 million from the community to buy 37 truckloads of food and partnered with the Honda Center to set up a pop-up food pantry where people could drive through, no questions asked, and pick up food for their families. An additional $250,000 was raised to hire 120 temporary workers, many of whom have recently lost jobs, to staff the event.
"We knew people needed food, and we had to get it to them quickly," says Keller, explaining how the mobile pantry works: "A volunteer opens the trunk, 25 pounds of groceries go into the trunk, the trunk is closed. We tap the trunk, we wish them good luck and goodbye."
As Second Harvest braces for more layoffs and more people facing food insecurity, it plans to host the drive-through, pop-up pantry every Saturday at the Honda Center until the COVID-19 crisis is over — expecting to serve 6,000 households each weekend.
"We know that the next two to three weeks, from a health perspective, will probably be the worst," she says. "But we won't rebound from the economic impact quickly."
Early Lessons From the Pandemic
"Getting my M.P.A. at Cal State Fullerton reinforced why I went into nonprofit work," shares Keller. "The nonprofit sector often tackles problems that even the government can't solve."
While many lessons will be learned from this pandemic, Keller initially notes four: 
Understand the value of foresight as it relates to your business model, anticipating all scenarios that can happen in a crisis.
Have a succession plan outlining who can replace who in the event of a crisis. 
Understand that human beings react to crises differently.
The only way to get through a crisis is together.
"We all have to pull together during a crisis, and that's never been more apparent than now," says Keller. "It's painful to watch some of the things on television, but I also see amazing humor and humanity that give me a lot of hope."
Second Harvest already is looking beyond the pandemic, forecasting a downward trajectory in fundraising for 2021 as people face donor fatigue and the economy continues to struggle. The organization anticipates a hiring freeze, one of many measures to ensure the food bank will remain stable enough to keep operating through a new wave of job losses and food insecurity.
"A lot of people depend on us for the food that they eat every day," says Keller. "That's really what drives us to make sure that we don't close down.
"We're saving every single document, every agenda, every memo, every piece of communication to donors and government officials," she says. "Everything is being put in a file because we know this is going to happen again."
For more information on how to support Second Harvest Food Bank of Orange County during the COVID-19 pandemic, visit feedoc.org.
This story is based on an interview conducted by political science faculty members Sarah Hill and Shelly Arsneault. Contact: Lynn Juliano, ljuliano@fullerton.edu