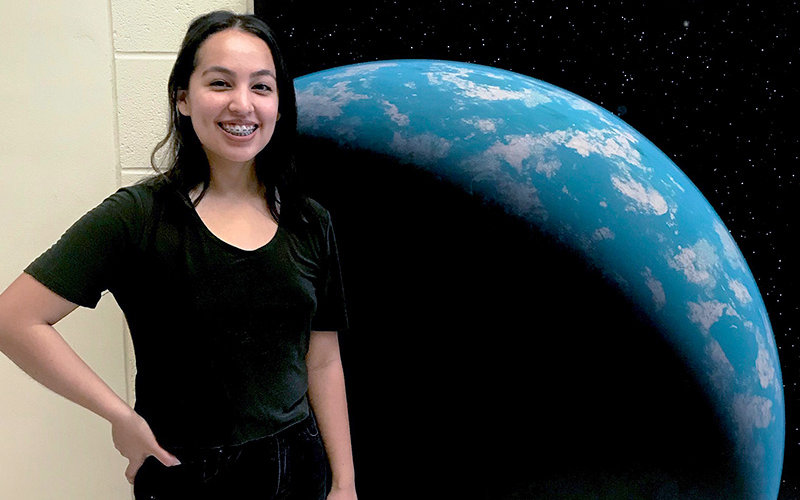 First-generation college students Mariana López and Denyz Melchor have received a leg up in their pursuit of graduate studies.
The undergraduates have each been awarded a National Science Foundation Graduate Research Fellowship to support their doctoral studies. This fellowship, one of the most prestigious programs in the country, recognizes outstanding students pursuing research-based master's and doctoral degrees.
"I'm grateful because this award will provide me with a sense of security, as well as the gift of time to focus on furthering my research," López said.
López and Melchor, both on track to graduate in May with the goal of realizing a teaching and research career in higher education, are students in the university's Ronald E. McNair Scholars Program and the California State University Sally Casanova Pre-Doctoral Scholar Program. These programs provide support and guidance to students interested in earning a graduate degree.
López, a double major in psychology and sociology, who was accepted into several schools, will attend UC San Diego's doctoral program in sociology in the fall.
Melchor, accepted into 11 doctoral programs, chose UCLA's physics and astronomy program, where this fall, she'll begin working toward a doctorate in astrophysics. She's also the recipient of UCLA scholarships.
"Being named a NSF Graduate Research Fellow signifies that I am ready to attend graduate school, and others also believe that I am ready," Melchor added. "It feels like a dream."
Fellows benefit from a three-year annual stipend of $34,000, along with a $12,000 cost of education allowance for tuition and fees, opportunities for international research and professional development, and the freedom to conduct their own research.
Denyz and Mariana's extraordinary achievements are reflective of their intellectual curiosity, commitment to scholarly research and work ethic. I am immensely proud that they are helping to keep Dr. Ronald E. McNair's legacy alive, while also forging their own pathways to becoming leaders in the fields of physics and sociology. — Patricia E. Literte, director, Ronald E. McNair Scholars Program
Preparing for Graduate Program Success
As undergraduates, the students conducted research projects to help prepare them for their graduate studies. López worked on a philosophy project to understand disagreement within different U.S. cultures, and for her senior thesis, she studied campus protests relating to conservative and counter-conservative political events. She also worked as a research assistant at UC Irvine on a project centered on the gun debate in the U.S.
Melchor, a researcher in the Nicholas and Lee Begovich Center for Gravitational-Wave Physics and Astronomy, studies gravitational waves produced from binary black hole mergers, as well as black hole-neutron star mergers. She's also researched black holes at Cornell University and at Monash University in Australia.
Both students credit their CSUF education and faculty mentors for their achievements and readiness for graduate school.
"Attending Cal State Fullerton has been one of the best decisions I could have made. Being a student in the physics department provided me opportunities that I didn't know existed," said Melchor, a 2019 Barry Goldwater Scholar. "Traveling to conferences and different programs across the country and abroad gave me a taste of what is to come in graduate school."
López also shared how faculty mentors played a significant role in presenting her with research opportunities and giving her academic advice.
"My mentors provided me with encouragement and moral support. I am deeply grateful to my mentors for investing so much time and patience in me throughout these four years at CSUF," she said.
Melchor, who also praised her research advisers and mentors, is looking forward to the next step in her academic journey.
"The best part of my time at CSUF has been forming relationships with friends from different backgrounds, as well as building lasting relationships with my mentors," Melchor relayed.
"Graduate school is a grueling experience for anyone. As a first-generation Hispanic female student, I know I will have multiple obstacles, so having people you care about and who care about you is essential for doing well."
Contact: Debra Cano Ramos, dcanoramos@fullerton.edu