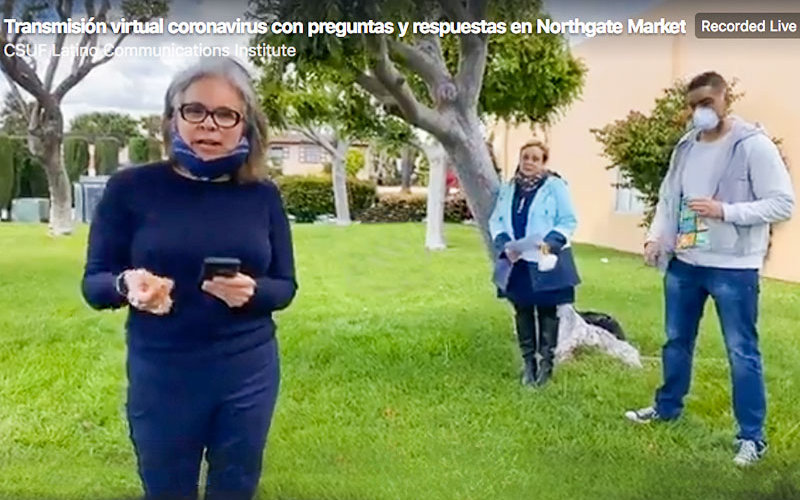 Titans joined forces to share health information and messages of hope with Orange County's Spanish-speaking community amid the pandemic.
The Latino Communications Institute at Cal State Fullerton, a work development program for Latino students seeking communications careers, is no stranger to local outreach and engagement. Since its founding in 2013, it has grown its community connections and is increasingly seen as a hub for Latino issues in the county.
When Orange County Transit Authority, one of the institute's many community partners, noticed an absence of Spanish-language information about COVID-19, they reached out to LCI for help. The partners quickly formulated a plan to engage local experts and broadcast health-related information about the virus on Facebook Live. 
"We were very intentional about using a platform like Facebook that is accessible to Spanish-speakers of all means," said Inez González Perezchica, director of LCI. 
"We were concerned about safety — we asked ourselves if we were doing the right thing by broadcasting," she said. "We decided that the information was needed, and we would reduce risk by not having students involved and by employing social distancing."
González Perezchica reached out to Maria Matza, associate professor of nursing, to speak on such subjects as handwashing, social distancing and symptoms of the novel coronavirus. 
Working at CSUF's Center for Healthy Neighborhoods and serving as president of the Orange County chapter of the National Association of Hispanic Nurses, Matza is very active in the community, and she too was concerned. 
"I wasn't hearing a lot about the new coronavirus, and there is misinformation. The Centers for Disease Control and Prevention site is not easy to understand," she said. "I felt I needed to do something — how can people know what to do if they can't understand?"
Matza compiled information for her presentation from the Orange County Health Department; the CDC website; and Marisa Sherb, clinical placement lead coordinator who teaches Spanish for health and human services professions. 
The broadcast took place in early April outside the Northgate Market grocery store in Santa Ana. Titan alumnus and U.S. Rep. Lou Correa '80 (B.A. economics) made an appearance, much to González Perezchica's surprise. He shared a message of hope and reminded the audience to complete the census, explaining that an accurate count would help with representation and provide the county with resources for such situations as the pandemic.
The livestream reached over 1,500 people, said González Perezchica. "LCI would love to continue to be a partner and help the Orange County community in whatever way we can."
Learn more about LCI on its website.
Contact: Karen Lindell, klindell@fullerton.edu