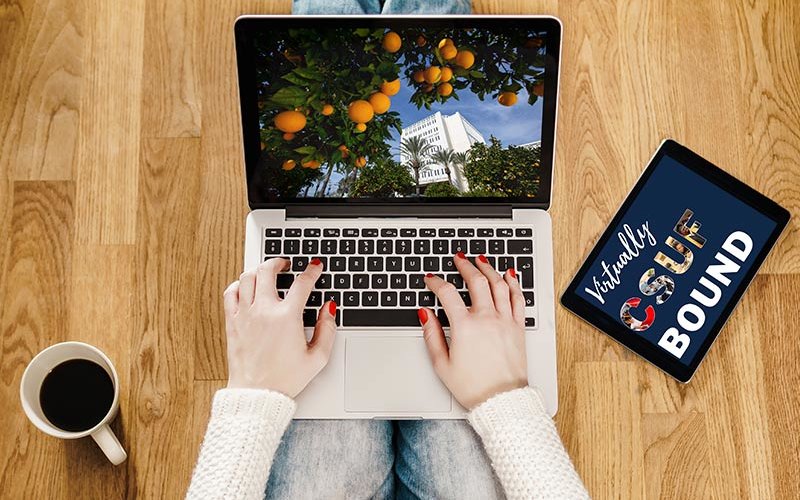 Prospective Titans can experience what the university is all about — virtually —
at this spring's Welcome to Cal State Fullerton Day Saturday, April 18.
Each of the university's eight academic colleges will host virtual sessions from 10 a.m. to 1 p.m. that prospective students can participate in with faculty and staff members. CSUF President Fram Virjee will deliver a welcoming address via video, which can be viewed at any time. Visit the event's website for the schedule and to access activities. 
Historically, the welcoming event is hosted each spring for students admitted for the fall, where they and their families visit campus to learn about programs, services and student organizations.
"Despite the current stay-at-home initiative due to the COVID-19 virus, we decided that it was still important to provide prospective students with an opportunity to get to know campus and learn more about the resources, academic programs and experiences they can expect by attending CSUF," said Sharnette Underdue, director of outreach and recruitment.
"Welcome to CSUF Day also serves as the time when high school and community college students formally commit to the university and are celebrated during the day. We've attempted to make the experience as close as possible to what the guests would have experienced in person."
In addition to Saturday's event, students who commit, or are considering CSUF, can access a range of virtual webinars and programs on the website, hosted in collaboration with the Office of Admissions, Office of Financial Aid, Titan Orientation Programs, Student Life and Leadership, Housing and Residential Engagement and Campus Tours.
Webinars are offered on such topics as financial aid and student life. Upcoming events, held at 11 a.m., are: Friday, April 17, "Choose CSUF: Why I Became A Titan" and Friday, April 24, "The On-Campus Student Housing Experience." 
To provide a personal touch to the 43,000 admitted students, a phonathon also is underway to urge them to become part of the Titan family. About 140 student volunteers and staff members are helping out on a daily basis to call the students and make personal connections.
"We'll answer any questions students have about CSUF as they prepare to embark on their Titan journey," Underdue said.
"We also wanted to provide students with the opportunity to chat with current students as some may still be deciding on whether to attend CSUF or not. We find that peer-to-peer interaction is important, and while sheltering in place at home, we want to let students know CSUF is here for them too."
First-time freshmen and transfer students have until May 1 to commit and accept their admission to CSUF.
Virtual campus and housing tours are available by visiting online. The Welcome to CSUF Day website is updated daily and questions can be emailed to csufor@fullerton.edu. Information also can be found on Instagram @csufoutreach.
Contact: Debra Cano Ramos, dcanoramos@fullerton.edu